"Before REACH, everyone in our community was resigned to failure. The teachers in our schools and the parents of students did not care whether their kids learnt or not. The students themselves knew they would fail the very moment they walked into class. Nobody ever passed from those schools. REACH has been able to change all these. The success of local kids and REACH's outreach work has shown our community that our kids are just as capable as other kids in Uganda, and given the right resources and support, they can compete with anybody."
John Wanda, Co-founder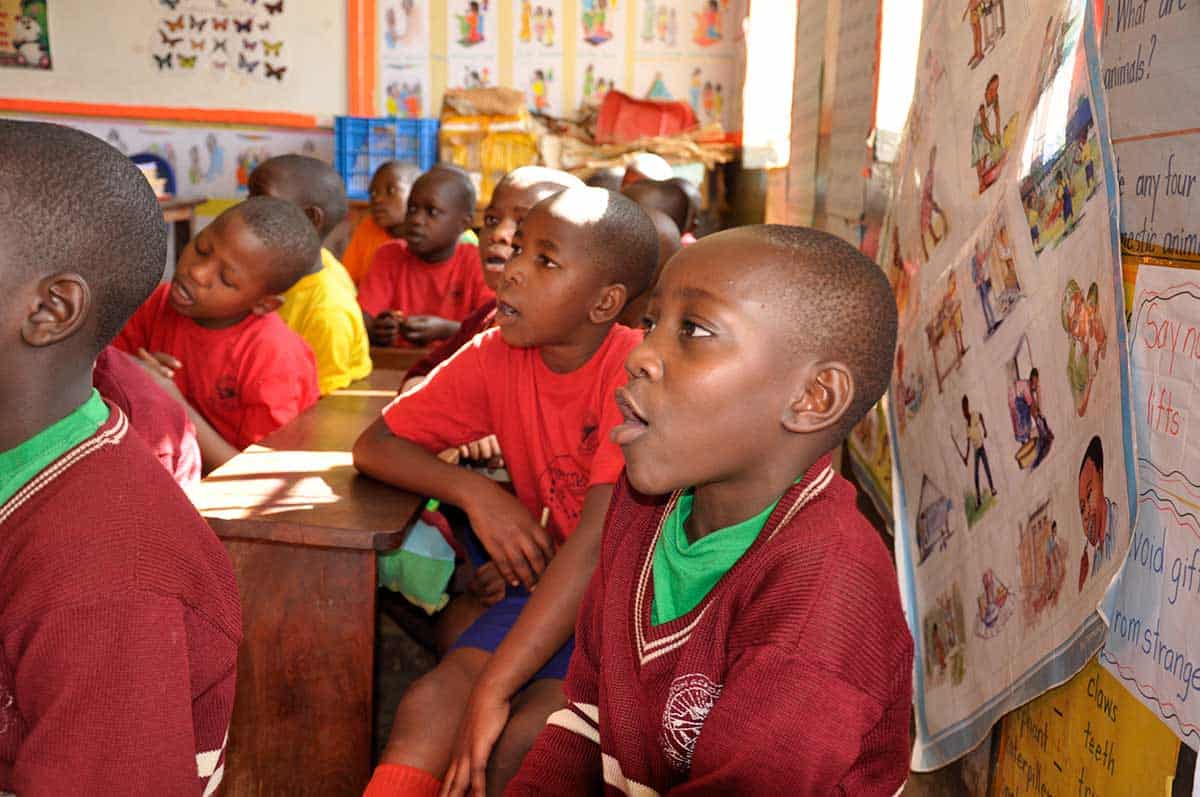 After winning a State Department diversity lottery visa, Joyce and John Wanda moved from Uganda to the U.S. in June, 1995, and settled in Arlington, VA. Witnessing the impressive learning experiences of their children in Arlington Public Schools, John and Joyce were inspired to provide a similar education for children in their native villages. Less than 1% of Ugandans graduate from a university, as John and Joyce had, and they both knew how rocky and pot-holed the road to such success was.
In 1999, they began to smooth that road by providing tuition support to five village children and recruited other supporters from their church and workplace. Soon their program was embraced by Bethel United Church of Christ and the American Chiropractic Association, where John worked. By 2002, John and Joyce had raised over $10,000 which directly supported the education of 142 students. Unfortunately, their scholarship program did not have the immediate impact on the local standards of education that John and Joyce wanted.
Substandard Schools
Many schools in rural Uganda (a full 80% of the country) lack materials, such as paper, pencils, books, and even walls. Teachers are often undertrained, and many do not speak English fluently, although classes are taught in English. Attendance and tardiness issues are prevalent for both teachers and students. Many families choose for a child to help in the fields rather than to attend inadequate schools. While John and Joyce's scholarship students had better resources, they sat in crowded classrooms and received little assistance from their teachers or parents.
A Model Primary School
The Ugandan community and U.S. donors decided together that starting their own school in the village would be the best way to make an impact on local education. A model primary school could serve as an example for all the other schools in the district.
On February 2, 2004, the Arlington Junior School opened its doors to 78 students and became the only school in the region using American models of education, serving lunch, and emphasizing the development of the child as an individual. Word spread quickly. Soon over 300 students attended AJS, with nearly 150 on a waiting list.
More than 800 students are currently supported by REACH.
Over 700 students have attended Arlington Junior School since it opened.
More than 75 students have graduated from certificate, diploma, and degree-granting institutions including 31 with Bachelor's degrees.
Overall, 51% of our students are female.
We serve over 20,000 students in our Outreach Program through our partnerships with 26 government primary schools.
In 2017, our clinics served 24,072 patients.
2001-03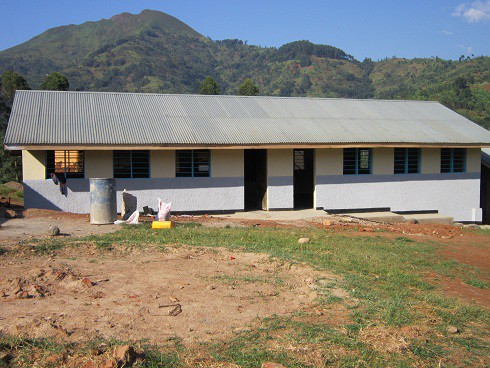 2001-03
December 2001: Bumwalukani Scholarship Program is launched with 36 students.
December 2002: The Wandas and their supporters decided to build a model school in Bumwalukani in the Bududa district of eastern Uganda.
October 2003: Construction on the school begins when Bishop Samwiri Wabulakha lays a foundation stone.
2004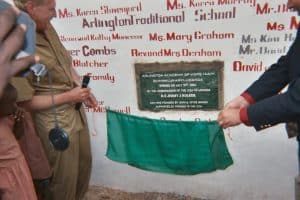 2004
February: Arlington Junior School opens with 78 students and eight teachers.
July: The first volunteers from the US join the US Ambassador to Uganda to officially open Arlington Junior School.
December: REACH for Uganda is registered in the US as an independent, non-profit, 501(c)3 organization. The first Board of Directors is elected with John Wanda as President.
2005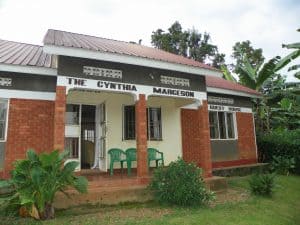 2005
May: The new guesthouse, located near Arlington Junior School, is completed to accommodate the growing number of volunteers from the US.  It is named the Cynthia Margeson Guesthouse in honor of the school's first Head Teacher, a retired teacher from Arlington Traditional School.
June: The student sponsorship program is created, and the first 30 students are sponsored.
2006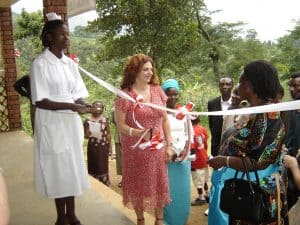 2006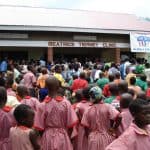 May: The Washington Post Magazine runs an in-depth profile on REACH.
July: The first Beatrice Tierney Health Clinic opens on the grounds of Arlington Junior School in partnership with The Foundation for the International Medical Relief of Children (FIMRC).
The new Head Teacher house is built, and the first Reading Challenge program launched in conjunction with Arlington Traditional School.
December: The first group of Arlington Junior School students sit for the national Primary Leaving Exam. All 31 students pass and 15 students pass in Division 1, the top division!
2007-08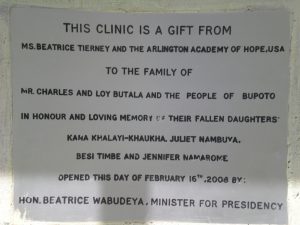 2007-08
January 2007: REACH launches the Wamundu Secondary Scholarship Fund to support first class of students 25 students entering secondary school.
2008
February: A second Beatrice Tierney Health Clinic is opened in the Manafwa district. The clinic is dedicated to the memory of co-founder Joyce Wanda's sisters who passed away as young women.
March: REACH launches secondary scholarships for the top boy and girl at local primary schools. The program eventually covers seven schools: Matuwa, Bupoto, Tsengwa, Bukwambeyi, Bududa, Bumwalye, and Bulobi.
July: A new school library opens at Arlington Junior School.
September: REACH receives its first grant from USAID for secondary scholarships and school supplies for 30 local primary schools.
2009-10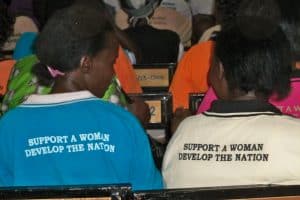 2009-10
2009
Dick Burk is elected President of REACH US Board of Directors.
May: REACH launches a teacher training program for local teachers under new USAID grant.
2010
January: In partnership with the Women's Microfinance Initiative (WMI), REACH starts a micro-finance program. REACH formalizes a partnership with the DC-based Kamal Foundation to rebuild Bulobi and Bumwalye primary schools in Bududa, with additional schools to follow.
August: REACH students perform at the National Music Festival in Kampala — the first time a school from Bududa has participated. REACH student, Godfrey Natseri, wins the top award for best soloist.
October: REACH launches a radio program in Uganda.
2011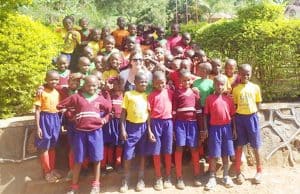 2011
2011
March: The REACH partnership with Marymount University in Arlington, VA, begins.
May: The first community nursing scholarships are launched in Bupoto. 

2012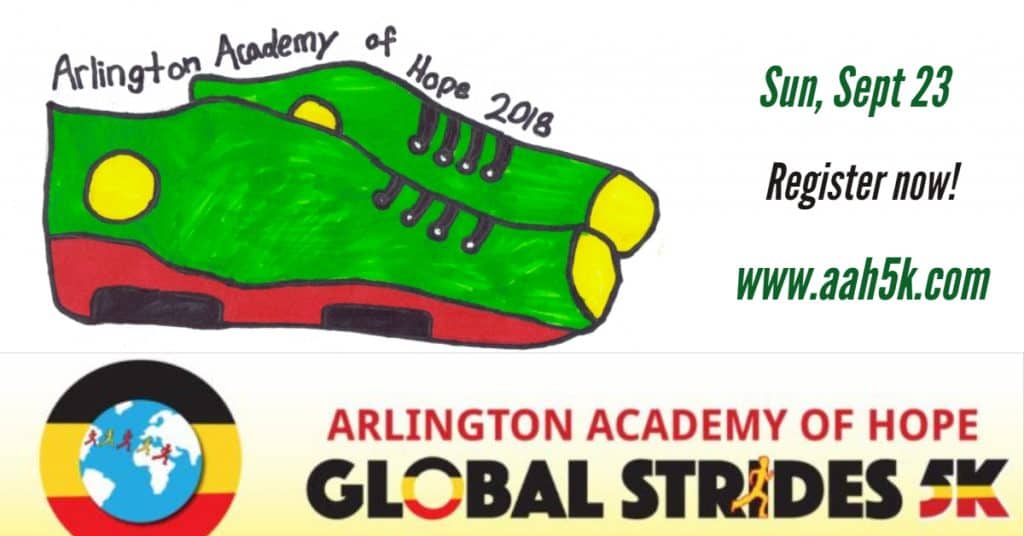 2012
2012
January: Bulobi Primary School is completed through continued partnership with local governments, communities, and the Kamal Foundation.
March: The TOMS Shoes distribution program is launched with more than 30,000 pairs of shoes distributed to local schools and communities in Bududa, Manafwa, Mbale, and Sironko districts.
April: The REACH partnership with Lasell College starts.
September: The well drilling at AJS to provide the first source of clean water for the school and community was completed.
December: The first group of REACH students completes secondary school, and 19 students join University.
2013-14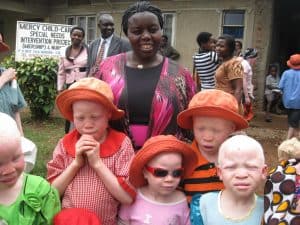 2013-14
2013
January: Continuing the partnership with the Women's Micro-finance Initiative, a new women's micro-finance project starts in Bupoto in the Manafwa district.
February: REACH begins a partnership with Asante Mariamu, an Arlington, VA, based organization dedicated to supporting children and families with albinism.  
2015-16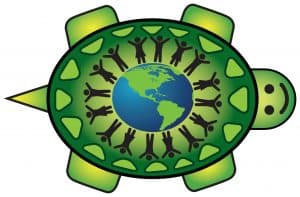 2015-16
2016
January: REACH assumes full responsibility for the operation of the Beatrice Tierney Health Clinic in Bumwalukani.
Tuckahoe Elementary School becomes the first sister school to a local primary school in Uganda, Matuwa Primary School.
2017-18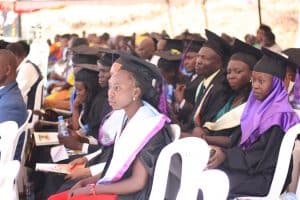 2017-18
January: REACH US opens office in Arlington, VA.
February: REACH celebrates the all of our post-secondary graduates, including first group of students to earn Bachelor's degrees.
Fall: Three elementary schools become sister schools with local primary schools in Uganda: William Halley Elementary (VA) with Bumwalukani Primary School, The Advent School (MA) with Bubiita Primary School, and The Johnson School (MA) with Toma Butta Primary School.
REACH fills a need in my life to make a positive difference in this world beyond my family.