REACH welcomes volunteers to join us in Uganda for a few days or a few months to work at Arlington Junior School and the Beatrice Tierney Health Clinics. Volunteering gives you an opportunity to live and work in the communities we serve in rural eastern Uganda. We provide room and board at our local guesthouse and transportation to and from Entebbe Airport, which is located south of Kampala.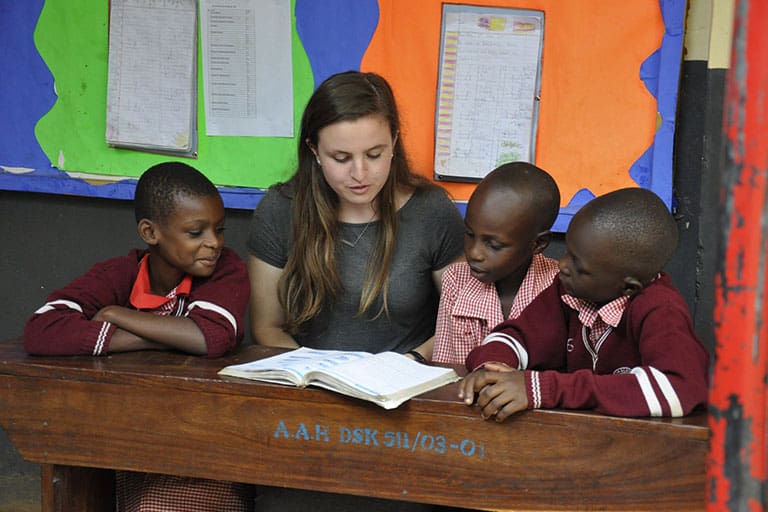 Interested in education? Spend your time at Arlington Junior School, REACH's model school, assisting teachers, conducting lessons, working one-on-one with students, working in the library, organizing sports and special programs, and more. Volunteers can also spend time at one of the 26 local primary schools we partner with in our Outreach Program.
Interested in global health? REACH provides a unique opportunity to gain hands-on experience. Volunteers with medical experience can assist with patient intake, taking vitals, collecting research and data, as well as participating in community health outreach programs. For more advanced medical students, we can also help to arrange visits to local hospitals where you can shadow doctors throughout their rotation.
REACH has two guesthouses for volunteers working with us in Bumwalukani and Bupoto. As part of our daily guesthouse fee, volunteers are provided with three, basic Ugandan meals each day. Breakfast and dinner are served at the guesthouse, and lunch is served at the school and clinic. The guesthouses have no indoor plumbing, but both houses offer two flush toilets and two cold showers in a separate building behind the house. When we have electricity, guesthouse showers have warm water, and for times without electricity, we provide hot water for bucket baths. REACH charges a nightly guesthouse fee per person. For a stay of 1-21 nights, the fee is $40 per night and for 22 or more nights, the nightly fee is $30 per night. Guesthouse fees do not cover the cost of a hotel stay in Entebbe or Kampala if required on nights of arrival or departure.
REACH provides transportation for volunteers to and from Entebbe Airport, which is located several hours from Bududa district. Our International Coordinator meets volunteers at the airport and travels with them back to Bududa. The fee is pro-rated if the vehicle is shared with other volunteers. For a 4 passenger vehicle, the roundtrip fee is $350 and $175 one way. For a 7 passenger vehicle, the roundtrip is $450 and $225 one way.
The REACH International Coordinator lives at the Bumwalukani Guesthouse and is responsible for coordinating all of our international volunteers. In advance of their trip, volunteers work closely with the International Coordinator to plan and arrange travel and activities. The coordinator supports our volunteers throughout their trip.
The Program Fee is $200 per person fee for every volunteer. This fee supports our projects and covers staff support for volunteer coordination in the US and Uganda.
Volunteers will be responsible for the cost of their flights, visas, travel insurance, and vaccinations.  Below are approximate costs of these items plus general recommendations for spending money and other travel.
Flights range from $1000 – $2500 roundtrip from the US
Visas are currently $50 for a 3-month tourist visa but volunteers should check Uganda's E-Immigration website for the most updated fees.
Malaria pills range from $90-190
Vaccinations (yellow fever required) and medications recommended by your travel doctor can range from $100-$800
Travel insurance with medical evacuation coverage ranges from $50 and up – we can provide a list of suggested providers.
Souvenirs and personal expenses $300+
Safaris, side trips $600+
The students at the Arlington Junior School in Uganda are joyous and in love with learning. It's contagious, in the most wonderful way.
Fiona
Teen Trip alum, sponsor, volunteer