At the REACH for Uganda, we understand that good health is central to a child's long-term success.  Children in remote, impoverished regions who contract malaria and other serious but treatable illnesses often have long absences from school, and some never return.
That's why we opened the Beatrice Tierney clinic on the grounds of AJS in 2008 to ensure that both our students and members of the community at large have access to quality, reliable health services that are so desperately needed for their success.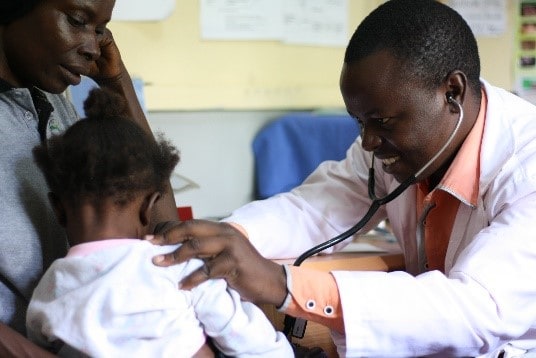 Beatrice Tierney Health Clinics: Bumwalukani & Bupoto
Through the generosity of our dedicated supporters, we are now proudly operating not one, but two health clinics in the region to provide a wide range of free medical care, immunizations, and community health education. Our clinics serve over 20,000 people annually. Through our clinic, the local community has access to childhood immunizations, malaria treatment, HIV counseling, pneumonia treatment, skin care treatment, antenatal care, midwife services, and more.  Here's a snapshot of the work our clinics did in 2017:
Served 24,072 patients
Administered 2,754 malaria treatments
Gave 7,596 immunizations to children under one
Delivered 186 babies
Counseled 1,385 patients on HIV
Our work goes beyond the numbers.  When Amos was very young, a terrible accident required his lower left leg and forearm to be amputated. Under typical circumstances, losing not one, but two limbs would make it nearly impossible for a child growing up in Uganda to continue his schooling. Thanks to your support, the REACH for Uganda was able to help Amos receive a much needed prosthetic leg. Not only has this new leg kept Amos mobile, but it has allowed him to continue his studies, and he is currently thriving as a student in our primary school!
Our services have helped those like Abel, a 14-year-old boy from the village of Busamo who suffers from epilepsy and requires carbamazepine tablets to stabilize his condition. Being one of 7 children in his family, his parents have struggled to provide him with the care he needs. Due to his frequent epileptic attacks, his mother was always worried about her son leaving home, as he would often return after an episode with wounds on his body. Since having access to the Beatrice Tierney clinic, he now has the treatment he needs, and no longer suffers from these attacks, giving him the freedom to move about the community safely, without fear of injury.
The clinics also help community members like David and his family, who have suffered from a variety of health issues over the years. Before the Beatrice Tierney clinic opened, David and his family had to travel at least 6 miles to the closest clinic. If they could afford the trip they often found the cost of the consultation and medication to be beyond what they could afford, forcing David and his family to make difficult decisions about what conditions to seek treatment for.  Since the opening of our clinic, David and his family now benefit from local access to life-saving health services, including low-cost doctor consultations and free medications that we provide. We've helped treat David and his family for malaria, peptic ulcers, and healed numerous burns and cuts. Now David does not have to weigh his options when caring for his family, they are able to go to the clinic and are treated immediately.
$50 provides immunizations for 10 children
$100 provides delivery kits for 10 mothers
$500 provides lab supplies for 2 months
$1,000 provides 1 month of medication for a clinic
$2,000 provides a nurse's salary for 10 months
It's been a great experience learning about and supporting the health program in this outstanding organization in Uganda!
Marjorie
Donor, volunteer