REACH's Secondary School Scholarship Program enables AJS graduates and scholarship winners from our outreach schools to achieve their dream of attending secondary school, which is equivalent to middle and high school in the U.S. In 2017, more than 350 village children attended high-quality boarding schools throughout Uganda thanks to REACH scholarships. Throughout these years of study, REACH continues to support the students' academic success and also reinforces their ties to the local communities.
REACH secondary school scholarships are funded by our Akisoferi Wamundu Fund for the Future, named after the father of John Wanda, REACH's Co-founder. Akisoferi's dedication to education helped ensure John's educational success and inspired the vision for REACH.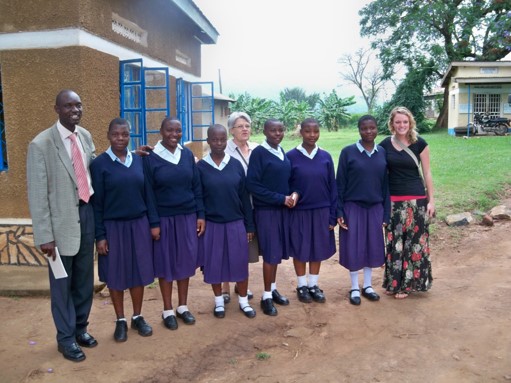 Highlights of the Secondary School Scholarship Program
Students are expected to work hard and present their report cards for review by REACH Uganda administrators during each term break. They must maintain strong grades and performance reviews to continue their scholarship.
Students attend secondary schools regularly assessed by REACH Uganda both for quality academics and sensitivity to children coming from rural areas.
During term breaks, students return to the village and perform community service under REACH UG's guidance. The older students tutor younger children, work in the library, clinic, or on the farm, and also do special projects. This model instills a sense of responsibility to give back to their communities.
A team of REACH Uganda teachers, administrators and volunteers help students prepare for and transition to secondary school. Student evaluations are reviewed each term so that concerns about academic performance or emotional adjustment can be addressed immediately.
As with our primary students, most secondary scholarship students are sponsored by a donor who develops a special bond with the student. One of the highlights of the school year is the arrival of a big bundle of sponsor letters three times a year.
Although I have always known that education is power for young students, this experience solidified my understanding of just how important school is for children across the world.