Uganda's public school system is desperately underfunded, which leaves students in decrepit school buildings with too few latrines, desks, and classrooms to accommodate them. These crowded schools sometimes have one hundred students in one class with only one, underpaid teacher, who may or may not show up to instruct them.
Building on the success of the REACH primary school model, we have expanded our reach to 26 local primary schools with over 20,000  students. REACH helps to provide teacher training workshops, school lunch program subsidies, secondary scholarships, library assistance programs, and mentorship workshops to many of these impoverished students and schools.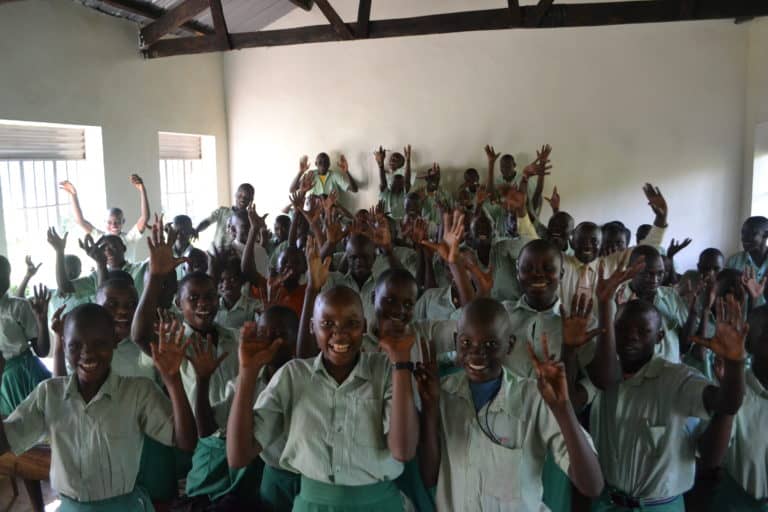 Features of Our Outreach Program
In most government schools in Uganda, students are in school from morning to evening without any lunch. To alleviate this problem, we provide selected schools with a subsidy for their lunch program to ensure that students are well-fed and energized for learning.
We provide schools with practice tests for the Primary Leaving Exam (PLE), an important test which determines if students have passed the primary grades and can go on to a good secondary school. Every year, we print three sets of exams for approximately 1,200 students across our outreach schools. With the help of this program, local schools are slowly improving. On the 2008 exam, Bududa District ranked second to last, but in 2015 it was 74th district out of 133. We aim to keep moving up the rankings!
We provide a select number of secondary school scholarships to the highest performing students at our outreach schools. Many of these bright students could not afford secondary schooling without sponsorship from REACH.
REACH organizes workshops for outreach school teachers on various topics, such as active learning strategies, reading instruction, and exam preparation. By training teachers with new strategies and ideas, we help them to inspire and better educate their students.
REACH has developed a Life Skills Mentoring Manual for our outreach schools which contains monthly lessons on life skills, decision-making, resisting drugs and alcohol, setting future goals, and preventing HIV and pregnancy. With these lessons, outreach school teachers can encourage children to make positive decisions and avoid pregnancy, early marriage, and school drop-out.
Our annual debate tournament encourages English and public speaking skills, as well as friendly competition between our schools.
After our REACH students finish secondary school, many of them volunteer as assistant teachers at some of our most understaffed outreach schools during their break before university. With this program, the outreach schools receive much-needed help while the student volunteers gain valuable teaching experience.
Most Ugandan schools do not have libraries and, as a result, reading culture and literacy rates in Uganda are very poor. We help schools to create small libraries by providing shelves, books, and training. These libraries will help students to develop their vocabulary, improve their English, enhance their critical thinking and creativity, and learn more about the rest of the world.
Tuckahoe Elementary School in Arlington, VA, has graciously pledged to support Matuwa Primary School as a sister school. With their support, REACH has built a kitchen at the school, made repairs to cracked floors and broken windows, supported their lunch program, and opened a small library, among other initiatives.
Outreach schools are so underfunded and lacking in basic resources that a small donation goes far towards supporting learning.
$35 provides a student with lunch for the whole school year
$80 provides a workshop to train 50 teachers
$125 provides a set of readers for a classroom
$300 provides a set of practice exams for 1,200 students
The school is terrific, and I love that the goal is to impact in the whole community (outreach schools, clinics, etc), not just a really good school that 350 kids get to attend. It's great to know that you really can make a difference.