January  – February 2015 News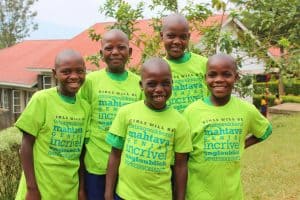 Primary Leaving Exam (PLE) results. We're thrilled  to report that the results of the Primary Leaving Exam are in, and all of our students have passed! In Uganda, the PLE is a national exam at the end of primary school to determine who is permitted to continue on into secondary school, so it's a very important milestone. A true testament to our hardworking teachers, staff, students, and their supportive families!  We're delighted to report that the outreach schools we assist are also seeing improved test scores and at one outreach school (Bulobi), for the first time in school history, 100% of students passed the PLE!
Did you get Amazon gift cards for the holidays? Remember to use smile.amazon.com when shopping at Amazon! Every purchase generates an Amazon.com donation to REACH — at no additional cost to you!   Amazon Smile link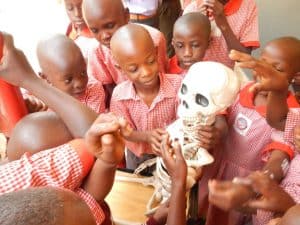 Letters from sponsored . Your responses will  be hand-carried to Uganda with travelers. You can either mail to P.O. Box 7694, Arlington, VA 22207, or send by email or email attachment to aahletters@gmail.com.
The children will soon be back at school for the start of the new school year. The new 1st grade ("P1″) class has been selected, and they are full of enthusiasm and promise!
The tax letters for 2014 donors have been sent.  If you didn't receive yours, please email info@reachforuganda.org and we'll send you a copy.
Out of more than 1,000 organizations, REACH was just named GlobalGiving's "Best All Around" partner in 2014! REACH was selected because "REACH was one of the top fundraisers in 2014 and demonstrated exceptional engagement, including offering multiple training opportunities to GlobalGiving's community." To all who helped make this happen by participating in GlobalGiving events, thank you so much!
– Employer matches are great!
Can you increase the impact of your donation with an employer match, or employer donation for your volunteer hours worked?  All the info and forms you need are right here! What a great way to make your hard-earned money have more impact and help more children in Uganda!  Check out our link:
EMPLOYEE MATCH
– Holiday shopping?
Remember to use smile.amazon.com when shopping online! 
Every purchase generates an Amazon.com donation to REACH — at no additional cost to you!  
Amazon Smile link
– Shopping on eBay for the holidays? From now through Dec 31st, you could win $2,500 and REACH could win $25,000 just by designating REACH on eBay as a favorite charity! Feeling lucky? Maybe worth a shot!  Click here: Ebay charity designation
We're so grateful for all the support we received on Giving Tuesday!  Out of over 500 nonprofits, we raised over $40,000 and came in 2nd place — earning an extra bonus of $2,000, on top of all the matching money and donations received. The competition to raise the most funds was so close that it went down to the final seconds.  Every single person who donated or encouraged others to do so had an impact in getting our bonus funds for the children!
We understand that some people prefer to contribute by check or in other ways, and appreciate that too.  Everything we are able to do is all because of you!
Happy Thanksgiving! Funny thing about gratitude.  You don't need a lot of stuff to be grateful.  Our schoolchildren in the tiny mountain village in Uganda have few possessions.  They come from humble backgrounds, and their homes have no electricity or running water.  Yet people are happy, grateful for what they have and for the opportunity the children have to get a good education at REACH.  When you honor them with a visit to their homes, they will share all they have with you, and might even give you a turkey or plantains as a gift.  Yup. A live turkey!