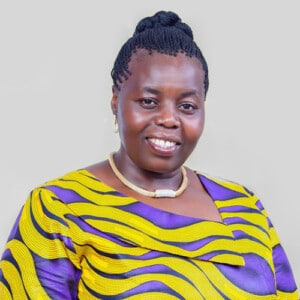 Co-founder & Executive Director
Joyce is the Co-founder and Executive Director of REACH for Uganda.
After immigrating to the US in 1996, She and her husband John co-founded REACH for Uganda in 2004 with a mission of helping children they left behind in Uganda reach their full potential by providing quality, well rounded education and basic health care.
John and Joyce's work through REACH and AAH Uganda has been recognized by entities such as Rotary International, US Embassy in Uganda, Arlington County, VA, the Caring Institute, and the Daily Points of Light.
Their work has been acknowledged by the Washington Post and other international and national publications.
Joyce, was among the very first girls in her village to attain a college education and is a strong advocate for equal representation for girls and women. She attained her secondary education at Tororo Girls School and Iganga Secondary School before joining Makerere University Business school. She later joined the University of South Africa and George Mason University in Fairfax, Virginia.
Mom to JJ, Craig, Christine and Chris, Joyce served as Vice President for North America Masaba Cultural Association (NAMCA) for many years and worked with Whole Foods, a Fortune 500 Best Company to work for in their Human Resource department, while still volunteering with REACH in different areas both in Uganda and US. After twenty years, Joyce left her full time job to focus her attention on the work of REACH.