"I am able to do so many things"
By: Danielle Fortin, International Coordinator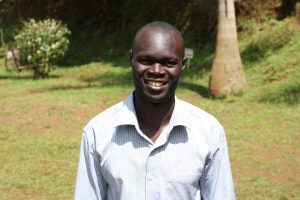 Meet Sam Warawa! Our newest member of the Arlington family. Not only is he our new Procurement and Facilities Officer, but he is also an REACH alumni! Sam entered Arlington in its first year (2004) as a P5 student. He didn't know any English and couldn't read or write in the local language. "But when I went to school, through Arlington, I really changed. I transformed. I am now able to speak and write well in English and Lugisu, I am able to do so many things."
Fast forward 12 years and he is now a grown man. He's confident, well put-together and well spoken in both English and the local language. He's also an active member of his community and he has just finished his courses for a degree in Business Administration from Uganda Christian University!
Growing up, Sam never would have guessed that he would continue his education up to university, let alone get a prestigious job soon after completing his courses, but he doesn't take it for granted. He knows how much Arlington has helped him out and he wants to make sure that others get same opportunity. "I take this as a very good opportunity. It has opened a world of hope for me." Warawa also knows his job will allow him to help his family. With a sister at REACH, he knows that once his sister reaches secondary and university he will be in a position to help with her school fees and will be able to provide her with any other support she may need.
Sam also knows this isn't just an opportunity to continue his personal and family transformation, but he knows he can use his position as a way to inspire younger students. While working at Arlington and interacting with the students, Sam hopes to "act as a model to them." He says, " they are going to see me as a person who has gone through REACH and is now someone who is working. I think it is good, because REACH students will be encouraged to work hard at school … and they will really realize the benefit of having an education."
Sam's desire to give back to his community doesn't stop in being a role model. As the head of the Arlington Old Students Association, he already has plans to also become a sponsor for an Arlington student and to encourage his fellow alumni to do the same. He is confident his fellow students can get together to keep the inspirational change Arlington has instilled in his community to continue.