Community Rallies to Support Local Clinic
By: Danielle Fortin, International Coordinator
June 25th was a typical day in Bududa at the REACH for Uganda. The sun was shining, music was playing, and the staff was organizing for a big event. As the chairs were arranged and the tables dressed in cloth and covered in waters and sodas, parents, grandparents, siblings, and community members gathered in the school's Great Hall. Soon, every chair was filled and every person was eager to see what the fundraiser would become.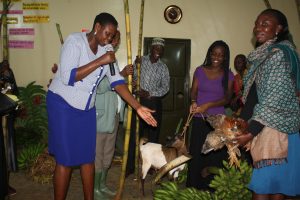 The radio announcement called for parents and friends of the organization to bring anything they could afford to give away to REACH to be auctioned off and the community delivered. The stage was a pile of matooke (plantain) bunches, sugar cane piles, eggs, bananas, woven baskets, chickens, and even two goats. All items, big and small, were auctioned off by the end of the night at a serious profit to support the reopening of the Beatrice Tierney Health Center in Bumwalukani, Bududa.
REACH was happy to welcome two very special guests to the occasion. After flying for hours and landing at 3am, Joyce Wanda made the long drive with little sleep and food to attend the fundraiser. We also welcomed parliament member, Honorable Geoffrey Watenga, who accepted to be the event's "guest of honor" and also contributed a special donation towards our clinic.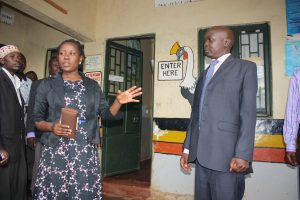 In reflecting on the day's event, it was amazing to see the whole community gather together to raise money for the clinic they rely on. Arlington is very well known in Bududa and eastern Uganda as a whole. The celebrity status that many associate with the organization often leaves the community just waiting for donations and money to be sent from the US to Uganda. Rarely do community members gather at such a big number to collect so much money for a cause.
With the help of our student's parents who brought simple donations, we were able to raise around 8 million shillings, which is about $2,500!! Other pledges and a large donation from the AJS PTA totaled our total money raised to be just over 18 million shillings, which is about $5,500! This is an astounding amount of money coming from a community of mud huts, farmers, and a simple way of life. The community has truly shown their dedication to Arlington, but also their dedication to seeing that the Beatrice Tierney Health Center in Bumwalukani stays open and well stocked for generations to come.