PLE Results In – REACH Students Excel
This morning, we received wonderful news. The 43 students who just graduated from REACH achieved a new milestone for our primary school. All the students scored in Division One or Division Two on the 2009 Uganda Primary Leaving Exam (PLE) and the majority of them (23 students!) scored in Division One. We are so very proud of these hardworking REACH students and their teachers. Thanks to them and the generosity of their child sponsors and many other donors and supporters, REACH remains the best performing school in Bududa and neighboring Manafwa District. You can see in the chart below how the performance of REACH students compares to those from Bududa District (where REACH is located) and across Uganda. The results from the PLE are again a confirmation that it is possible for students to achieve excellent results in rural Uganda, provided they are given the basic means to succeed.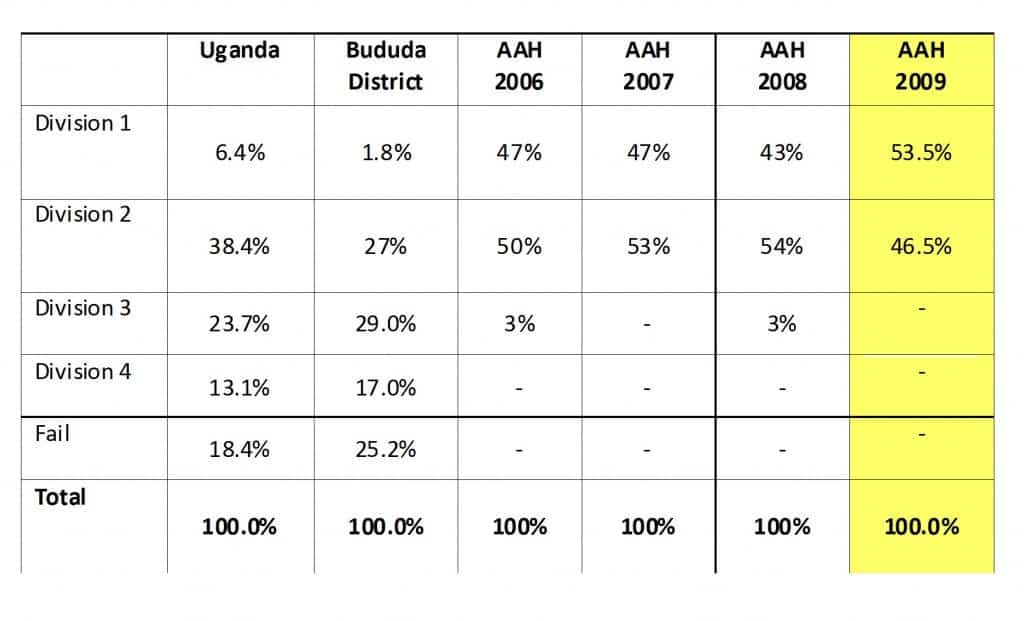 Today, the 43 REACH graduates are no doubt filled with excitement and new hope as they prepare to advance to a top level secondary boarding school where REACH has an established relationship. Provided they meet the eligibility requirements and we raise the necessary funding, they will receive REACH Secondary School Scholarships. A whole new world of possibilities will open up to them. It's amazing when you consider how far they've come. REACH students are products of a harsh rural environment and their likely fate was to become peasant farmers like their parents. When these kids first came to REACH, they knew almost nothing. Most could not write their names, or do the basic multiplication table, or tell the time. It did not matter whether these kids had gone to local schools or not. Many were on the verge of dropping out of school before REACH. That they could come to REACH and excel as they have done validates our belief that the system was not living up to the potential of these children.
Unfortunately, that village school system continues to fail thousands of other kids in the local schools. While Bududa escaped being tagged as one of the worst performing districts in Uganda largely because of REACH, Manafwa district, our neighbors to the south, could not escape that distinction. For the third year in a row, Manafwa and Sironko districts, both neighbors to Bududa district where REACH is located, remained among the poorest performing districts in Uganda. There is however some light at the end of the dark tunnel that Bududa, Manafwa and Sironko find themselves in.
During 2009, REACH supported 13 local schools in Bududa, Manafwa, Mbale and Sironko districts through our Village School Outreach Program. We provided teacher training to teachers at these schools, and school supplies and math sets to their students. We invited them to visit REACH and learn some of the things that were working on at REACH. We gave sample exam papers to all their students, ensuring that the students had a feel of the exam paper before they actually sat for the final exams. Many of these interventions are made possible through a public-private partnership supported by USAID. The exam papers were graded by REACH teachers. We promised scholarships to the top boy and top girl in 5 outreach schools in Manafwa and Bududa districts.
In all of the outreach schools where we worked, there was noticeable improvement over the previous year. In fact, in Matuwa Primary School in Bupoto, the school produced two first division students, the first time in three years since it last happened. Bududa district as a whole, where we have done the most work, produced its best result ever, scoring 38 students in first division, from 18 a year ago. We firmly believe that these interventions led to the improved performance in these schools. These are the interventions we want to introduce in other schools.
We don't want just REACH students doing well – we want all students to do well. We want to thank all REACH students who have brought honor to their school, all teachers at REACH who have done such a wonderful job teaching these students, and the parents of REACH students for their support and renewed commitment to education. We thank the students and teachers in our outreach schools for the improvements they have achieved. We also want to thank all donors and child sponsors in the USA and elsewhere for supporting these students. Without your financial contributions, these results would not be possible. John and Joyce Wanda REACH Founders