Primary Seven – Girls Retreat Report
By Caitlin Green and Carolyn Edlebeck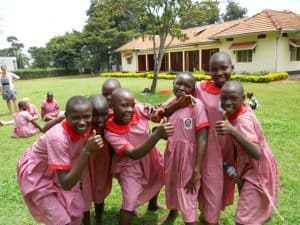 REACH for Uganda works very hard to raise intelligent and driven students. In order for REACH students to be successful, it is important that the Arlington staff and community continue to inform and sensitize the students, especially the girls, with all the necessary life skills. As the young girls at REACH begin to grow and mature there are many issues that they face as they move from the rural setting to their new secondary boarding schools. Therefore, a P7 Girls retreat was organized with the aim of giving the P7 girls an added foundation of self-confidence and understanding of how to lead a healthy lifestyle before they move on to higher education.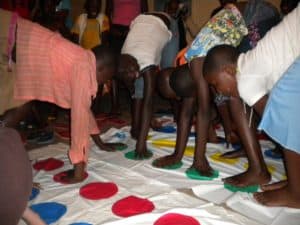 On August 6th-7th, the P7 girls joined REACH teachers on a weekend retreat to St. Andrew's Cathedral in Mbale. Chaperones for the retreat included: P1 teacher- Grace Lusweswe, P7 teacher- Miriam Nabafu, Volunteer Coordinator- Carolyn Edlebeck, and volunteer- Caitlin Green. The retreat group left the village at 10:00am on Friday morning and returned at 6:00pm the following day. All of the girls were so excited to have an overnight retreat and showed great enthusiasm for the purpose of the retreat.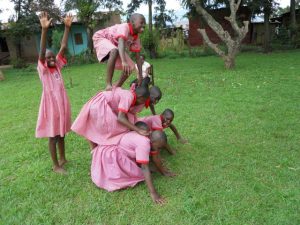 The two-day retreat was full of activities and speakers for the P7 girls. The topics covered included: Behavior and Self-Confidence, Relationships, Health, and the Future. Five speakers from varying backgrounds came to speak to the girls on Friday and Saturday, giving expert advice on many issues, ranging from HIV/AIDS, personal health, future goals, career aspirations, and the importance of having good, healthy relationships. One speaker, Justine Auma, was a clinical officer who spoke to the girls about health and hygiene. Another speaker was Pastor Frank Nankunda, who created a wave of excitement for the future and the importance of continuing education.
The overall goal of the retreat was to equip the girls with useful and important information so that they could have control of their futures, health, and sexuality. Overall, the retreat was a huge success! As Nakuti Carolyne in P7 commented, "I learned so much in Mbale. Now, I don't think any girl in our class will drop out of school. I was so grateful for all the information our teachers and other speakers shared with us. I will never forget them. They have inspired me to have a successful future."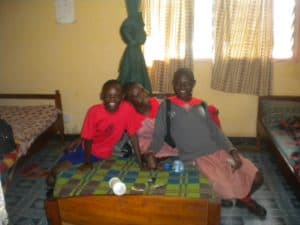 All the girls enjoyed the speakers and the activities that the coordinators had planned. Between speakers, everyone played games, had relay races, and listened to music. At the end of the retreat, each girl received a gift bag that included: two pairs of underpants, a bar of soap, jar of rubbing oil, shoe polish, a toothbrush, and toothpaste. This was a very successful and fun-filled event, for both the teachers and students. Hopefully, this will become the model for future girls' retreats because the value and importance of sharing information with young girls is critical for their success in secondary school and beyond.
A Students Reflection
It was on 6th of August, 2010 that the Primary Seven girls from REACH for Uganda left for a two day retreat to Mbale. The retreat was held at St. Andrew's Cathedral Guest House. When we arrived on Friday morning, we had our breakfast and then began the business of the retreat. The first speaker was named Madam Jesica, who first told us about her life up to now. She talked about how girls should not be taken up or persuaded by men or boys. She also told us that girls should not be like sheep, which don't know where they are going. Girls should have a path and not be lost in life. The presenter after Madam Jesica was Madam Mary. Madam Mary told us about how to make our future bright and successful. She also told us about the importance of taking care of ourselves and protecting ourselves as girl children.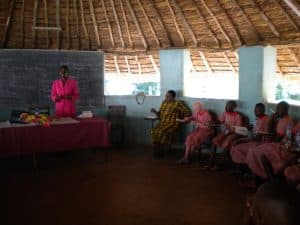 Next was a speaker named Madam Christine who held an HIV/AIDS and other sexually transmitted diseases information session. She talked about what HIV/AIDS stands for, and how it is spread, prevented, and controlled. She told us the signs and symptoms of the diseases, and concluded her lecture by sensitizing us on how to be safe from HIV/AIDS as girls of REACH for Uganda. Then she advised us not to have sex at an early stage because it is one way to get HIV/AIDS. After the morning speakers, we went to a restaurant in Mbale to have lunch.
We had a very nice and heavy lunch that everybody enjoyed and we gave much thanks to the school for organizing the retreat. It was really fun for all us girls. After lunch, we came back and continued with the program. Madam Justine came and took us through a session about behavior and body changes. She told us how to manage our periods and how to keep ourselves clean during menstruation. After she finished at 7:00 pm, we went to bathe and then had supper.
After supper at the guest house, we went to play games. All of the games were enjoyable and we even watched a movie called "Ice Age." It was very interesting and no one wanted to go to bed and sleep. The following morning, we went to bathe and then played some games before breakfast. As soon as we had finished all sorts of games, we went to the dining hall to have breakfast.
Our final teacher for the retreat was Mr. Nakunda Frank who talked about life skills. He said that we are as valuable as money, so we shouldn't misuse our bodies. He was the most interesting person of all of the speakers that we had at the retreat. He promised to come visit our school. He made us very happy. In the afternoon, we had our final lunch. At around 3:00 pm, Teacher Carolyn and Caitlin took us to a super market and we bought all sorts of things we wanted. When the taxi came at around 4:30pm, we set off back to our homes. It was really nice and wonderful. All of the P7 girls wish to thank so much the US board and the school for having done all this, especially Teacher Carolyn and Caitlin who were the organizers of the retreat. How wonderful you are! God bless you!