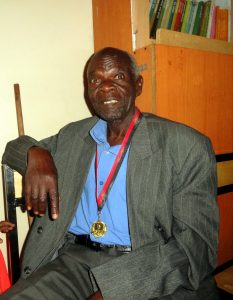 We have lost a great man in the Passing of Papa Wamundu, the visionary behind REACH.  In lieu of flowers, the Wandas suggest any donations go to the Secondary Scholarship Fund named after John's father, Papa Wamundu. Please use the Donate button on our homepage.
October 23, 2013 was a very sad day for REACH, as we mourn the passing of REACH Co-founder John Wanda's father — an extraordinary visionary and the man behind REACH and many other accomplishments.  Here is a personal note from our co-founder, John:
No words can describe the grief, or the love, we feel for this man. He was a man apart, a father to every child in my village of Bumwalukani, a counselor to all, a visionary.
Born in 1931, he grew up without a father or mother, living with relatives until 18, then making a home for himself in Bumwalukani. He saw his mission in life as empowerment – giving those around him, and especially his family, the ability to overcome adversity. To the kids who showed some potential in education, he gave them education. Those who showed an interest in farming, he showed them better farming skills. He gave tips to teachers, to carpenters, and even to the local chiefs. While he is most known for his efforts in education, he brought new crops and farming techniques to Bumwalukani, introducing foods and crops that no one had ever heard of. He was the first farmer in Bududa to grow vegetables for sale. We sold vegetables for our school fees, and other needs.
His greatest legacy was in education. He had a ninth grade education, the best in his time in Bumwalukani.  He resolved to be the best dad he could be, making sure each one of us went to school, stayed in school, and did well in school. Where others would be happy with just a passing grade, he made sure we were top of the class. If we did that, he gave us the best presents a child in Bumwalukani longed for – chicken for dinner, and tea with milk and bread. No kids in our village felt better loved and better treated.
This love extended to all kids in the village. Throughout his time, he put hundreds of kids through school, some more successful than others. REACH for Uganda (REACH) was his idea. He was the one who pushed us to start a school. He offered his own land for the school, and paid for the laborers who cleared the land. He paid for many of the kids in the village so they could come to REACH when it started. Now, after 10 years of REACH, we can say his vision has come true. Through REACH, there are now more than 300 kids getting a secondary education, and another 339 at the REACH school. Through REACH, thousands of people receive medical care every month. And through REACH, many new students can claim a university education this year. It is a vision that my dad had before any one of us did.
And so today, if there is one person to be recognized for the dramatic changes that REACH has brought to Bududa and to Uganda in general, it is this guy, my dad, the venerable Akisoferi Wamundu.
May his soul rest in peace, forever.     John Wanda