Giving Tuesday Results Are In!
Giving Tuesday Results Are In!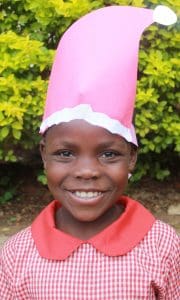 We were honored to be selected for today's Microsoft/ GlobalGiving program. REACH was the top fundraiser out of more than 350 nonprofit organizations in the Microsoft/ Giving Tuesday, thanks to our amazing supporters!  We raised over $53,000.  Thank you so very much!  The $250,000 matching funds from Microsoft were gone in just 16 minutes!  If you missed the chance for this fundraiser, you can always donate thru our REACH  website by clicking on the Donate Now button to the right.
 More news…Please see the Papa Wamundu page for a personal note from Co-Founder John Wanda  on his father's passing in October 2013.  If you would like to share a memory or photo of Papa Wamundu, please email us at info@reachforuganda.org   Your messages will be shared with John and Joyce.  The Wandas ask that in lieu of flowers, those who want to donate consider  the Papa Wamundu Fund for Secondary School Scholarships, please use the DONATE NOW button to the right.
Thanks to you, we received funds from Microsoft to match your donations on the special Microsoft 100% Match day in September.  We also came in first in the July Microsoft's GiveForYouth  fundraising challenge, earning valuable bonus money for programs in rural Uganda.
High School Trip.  Co-founder Joyce Wanda and Board member Heather B.  accompanied a group of high school students to Uganda. this past summer.  It was a wonderful trip, opening minds and hearts!
Our First Class Enters College! Our first class of secondary school graduates did well on challenging college entrance exams last year.  In Uganda, less than 1% have a college degree and there are not enough spaces for all, so it is competitive.  We had 22 students take the exams.  Tim scored a perfect score and just got a full scholarship from the Ugandan government, and 20 of 22 are now college students.  This shows our education programs work! We are so proud of them, and hope funding can be organized to enable them to go to college. Below is Tim, getting ready for college!
Marrissa arrived in August 2013.  She is a graduate of University of Pittsburgh and has experience tutoring as well as volunteering in HIV/AIDS programs.  We're excited to have her join our team!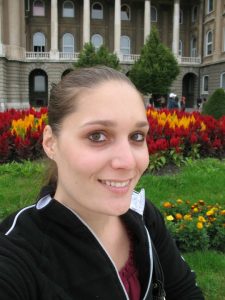 Volunteers Liz S. and Alex J. helped REACH's Molly Daniels distribute teacher supplies to ten poor schools in rural Uganda.  It involved carrying supplies donated by Givology up mountain paths to reach remote schools.  Schools were thrilled to receive paper, pencils, and other basic supplies. Thank you Givology!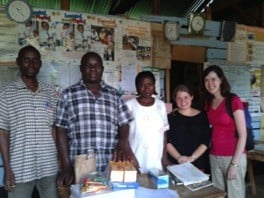 2014 Spring, and Summer Internships Still Available! Volunteer or intern in a rural Ugandan village in the mountains, or work with us in the Washington DC area.
Meaningful work, great people, beautiful country and wildlife…No wonder National Geographic named Uganda one of the 2013 Top Twenty Must See destinations!  Left, Volunteer Dana B. teaches class. For more info email info@reachforuganda.org
More news…Thanks to all who made the July 13th picnic a success. ..Uganda Program Director Thomas Kisolo Kitandwe enjoyed the intensive summer session of his Marymount University's Masters Program…A Lasell College group of 14 provided very valuable instruction and training to students in May.  Great job Lasell …REACH was the top fundraiser on www.globalgiving.org's and on Give For Youth recent bonus days.  We still need child sponsors though. Please consider Sponsoring a Child for Less Than $1 Day