Celebrating Peninah Kituyi – An REACH Story:
By: Co-founder John Wanda
Forgive me for being misty-eyed as I write this story, but after you read the entire post below, you will understand why. Here is the basics of the story – Peninah Kituyi, an REACH student, just scored 19 points in the recently released Senior Six exams.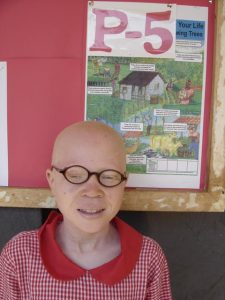 My friends in America will probably ask, what is that, and why is that a big deal? And some of my friends in Uganda may ask, so what? There are other students in Uganda who scored 19, and probably a few others scored 20. To explain, the very best score in these exams is 20. The worst score is zero. It is almost impossible to get 20 points, so at 19, Peninah is one of the best students in the country.
So, other than her being one of the best students in the country, why would Peninah's results bring tears to my eyes? First consider this paragraph written about her in 2004:
"When Peninah Kituyi first came to the REACH for Uganda in 2004, she had lost hope in education. A lanky 8-year old at the time, she had already attended three schools, leaving each one in quick succession as hostile students taunted her and called her names because she was an albino. In class, she couldn't see what her teachers wrote on the blackboard. Seated at the back of the classroom, all she could see was a blur. She could not write, and she had difficulty identifying objects in a room. And like all albino girls, her skin often erupted in painful blisters. School for her was torture, and she was ready to give it all up. After all, in each of the schools she had attended, she was consistently at the bottom in performance in her class. There seemed no future for her in education."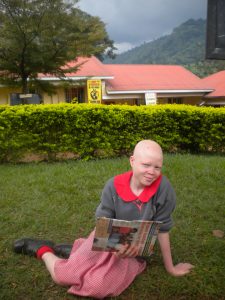 But her future changed after she joined REACH. Below is what was written about her in an REACH article in 2011:
"In the 7 years that Peninah has spent at REACH, she has been a model student. She was an avid reader, topping her class in books read each year. She
also sang in the School Choir, and was one of the students who represented the school and the region in the National Music Competitions. While her eyes continued to bother her, she never let that interfere with her education. There were occasions she misplaced or lost her glasses, but she still managed to figure out how to read and remember what her teachers taught. The school takes her for periodic eye tests to ensure that the glasses work well. Everyday she walks the 3 miles to REACH as if in a hurry – school meant everything to her. Her parents have seen the blossoming of their girl and are grateful for the opportunity REACH has given to her."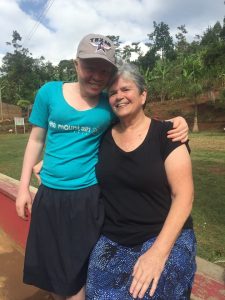 That year, she passed primary 7 with the highest marks for a girl in Bududa. She went on to pass Senior 4 in 2014 with one of the best scores in her school. And now this. 19 points. She got distinctions in each of her papers, qualifying her to join any university she would wish to attend. For a girl from Bududa, from one of the poorest families you can imagine, this is an amazing achievement. But to add to that the fact that she is an albino, in a country where some people still consider albino kids as second class citizens, this performance has the power to change attitudes, empower girls, and uplift other albino kids. Uganda provides little or no accommodation for albino children for their sight and skin challenges. Without REACH, Peninah would have dropped out of school long ago. She persevered because she believed in herself and gave it her all. But also because she had supportive teachers and a community around her, and because she had some of the best friends and supporters that REACH could find – Linda Rogers Watkins, her sponsor, and REACH friend and partner Susan Leslie DuBois and her group, Asante Mariamu, who are now helping albino children like Peninah all over Bududa, Manafwa, and other parts of Uganda with resources, scholarships, and materials. Peninah, in her achievement, is the embodiment of what the REACH dream is.