By: Danielle Fortin, International Coordinator
Meet Joshua Wanambwa. He's 18 years old and lives a 20-minute walk from Arlington Junior School. Last December as he returned home from boarding school, he went to get water for his family at the regular fresh-water well that usually services his village and four other villages nearby. He found it broken and unable to provide clean water for the hundreds of people who normally rely on it.
First, he asked about the local authority's response to the situation. He was told that the well wouldn't be fixed until at least next year. But this is so urgent, he thought. So he took matters into his own hands.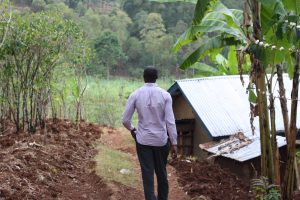 "We cannot wait for the government," says Joshua. "I believe we can find a solution to our own problems instead of waiting for someone else."
As a student who didn't have the money to fix the well himself, Joshua tried to get the community involved. He went door to door in each of the villages that gets water from that source. He recommended that each person contribute at least 1,000UGX ( or 30 cents USD).
Going into this initiative, Joshua was very confident that the community would cooperate and give to help themselves.  He quickly found the community members' reaction to be mixed, and most were unwilling or unable to help.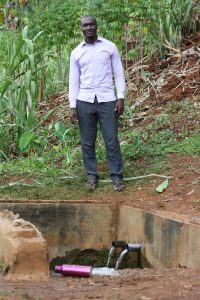 "It was tough when money was not coming and looking at the budget I drew up, we were far, far below the target," says Joshua. "I was beginning to give up because people give you negative responses and you think 'Oh, I should just give back all the money.' But I had a goal, and I knew it should be finished before I go back (to school). I had read in the newspapers that there was hepatitis and cholera going around, so I knew that if it affected this well, it would affect all of us."
Walking to and talking to each household took all of December and almost all of January, which was basically Joshua's whole holiday home from secondary school. By the end of the holiday he had raised enough money to buy three sacks of cement and additional materials and tools. He recruited a local contractor, a local chairperson, and some boys from the surrounding area, and together they mixed the cement and fixed the well themselves.
Today the 80 to 100 families (in addition to the families of Arlington teachers) who use the well again have access to water!  Not only did Joshua help to bring water closer to families, but he also helped prevent a cholera or hepatitis outbreak. He also helped prove to his community what can be done if you work together.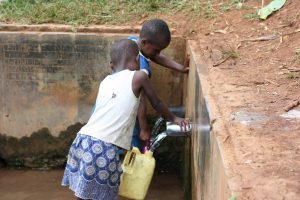 "Working on the well was one of my most happy days on earth," says Joshua. "It gives me joy every time I pass by it. I am thankful I had the ability to convince other people to do the right thing. I don't need to build another Arlington, but I believe that it was a small thing I could do for my society at the time."