First University Students Receive Diplomas
By: Danielle Fortin, International Coordinator
July 1st was a joyous day for the entire REACH for Uganda community. After 12 years of working towards getting our children to a higher education, four of our students received their diplomas. Co-founder Joyce Wanda and many members of our Uganda staff were in attendance at the Mukono campus of Uganda Christian University (UCU) to watch them walk across the stage and celebrate their success and bright futures.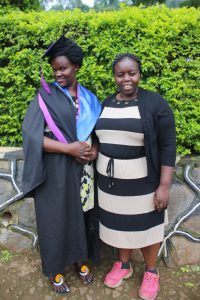 Nabulo Racheal, Namondo Jacob, and Watera Hilda all received Bachelors of Arts in Public Administration. Nabutsale Agnes Monica received a Bachelors of Science in Development studies.
Attending a top university in Uganda is a dream come true for students from Bududa. They couldn't have done it without REACH. Nabutsale Agnes says that, "I would not have reached where I am today and would not have seen my dreams come to pass. I would have dropped out of school and would have been married off already with many kids in the village if I was not a part of REACH."
As the graduates are getting over the initial excitement around receiving their diplomas, they are now focusing on getting jobs and setting up their career. Nabulo Racheal is one student who has always put in extra effort to make sure she has a bright future. As a student, she competed and won the position of Female Youth Councillor of the Bududa District. Now, with a diploma she knows she will go even further.
"With my degree in Public Administration and Management, I can head an institution or even start my own. I can mobilize my community and even sensitize them on any matter," say Nabulo.
REACH for Uganda has done what it set out to do. Provide children with not only a quality education and the skills to achieve their goals, but it has also provided them with a positive outlook on the future. "REACH has given me hope" says Nabutsale Agnes. "I believe that in a few years to come, my goals will be realized since I have already achieved one of graduating."
While these four students are to first to receive their official diplomas, 14 of their peers have also completed their courses and are waiting to walk across the stage. On November 18th the students who attend UCU at their Mbale campus will receive their diplomas in Education and Business Administration. Makerere University and Makerere University Business School students are still waiting to hear about their official graduation date.