Matthew, Jack, and Zach's favorite Teen Trip memories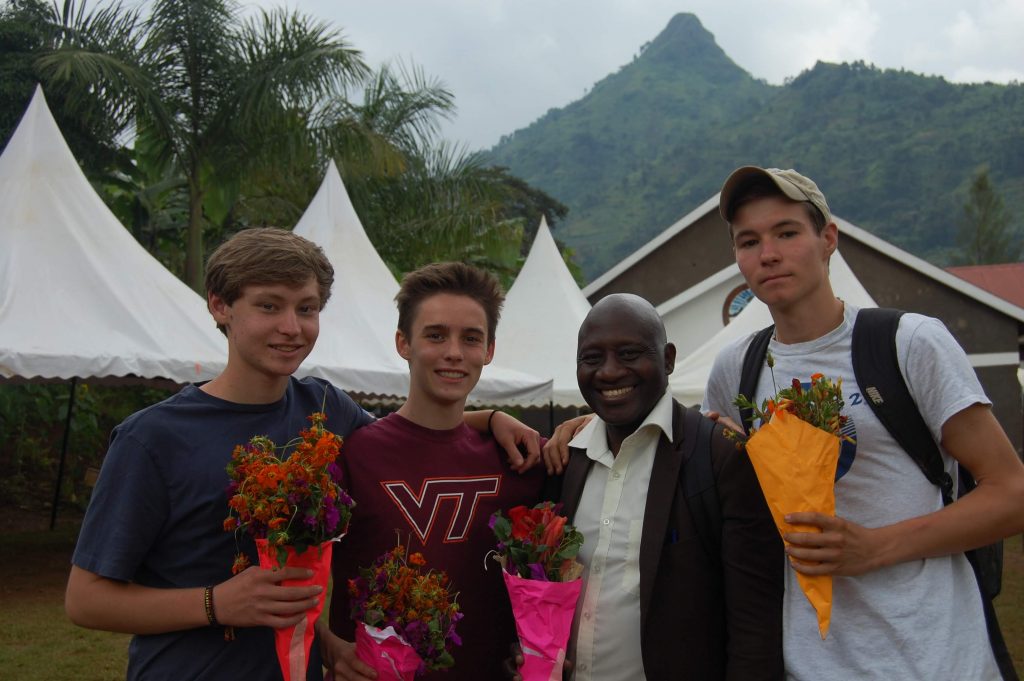 Zach, Jack, and Matthew (pictured left to right with REACH Uganda Program Director Milton Kamoti)—the young men from this year's Teen Trip— share their favorite memories of their special time in Uganda. For Matthew, the climb up Mount Nusu with AJS students stood out, and playing soccer with the local students was the favorite of both Jack and Zach.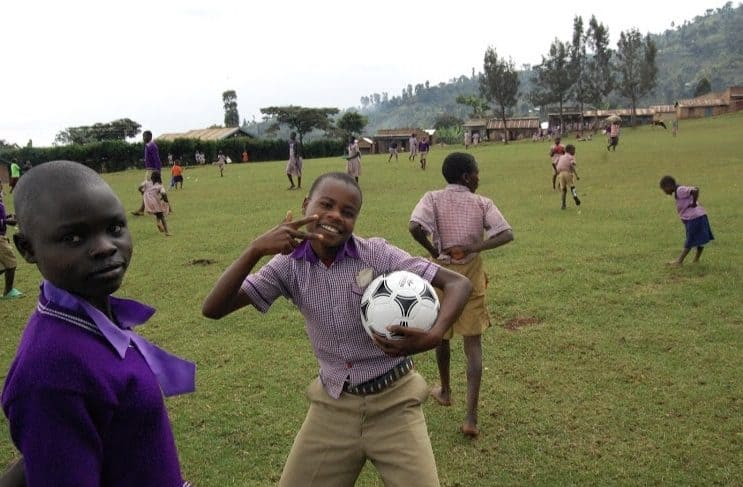 A Hike to Remember by Matthew LesStrang
My favorite experience of the teen trip was climbing Mount Nusu with REACH students. Ever since we arrived at the Arlington Junior School, the mountain had fascinated me. Situated in the hilly Bududa region, Nusu differed from the other mountains by having a prominent peak. When I learned that we would have the chance to climb it, I was thrilled. I don't have the opportunity to go mountain climbing in Africa every day.
We aimed to leave the guest house by 6:30 a.m. to begin the hike by 7:00 a.m. Per usual, we left a little late. When we arrived at the school, a group of REACH students joined us as our guides. The first part of the hike was a steep climb. It had rained the night before, and the dirt path was slippery. We had to pause a few times so the rest of the group could catch up, and kids laughed at our lack of climbing abilities. I had to be especially careful because I was carrying a camera around my neck. I had a few close calls where it nearly swung into a tree or a large rock. About halfway up the mountain, the steep path turned into a winding gentle incline. At one point, we had to crawl up a wooded slope.
We reached the summit about 11 a.m. and were exhausted. As the tallest person in the group (and the highest point on the mountain), I was constantly swarmed by insects. After reapplying bug spray, we relaxed on the summit for about twenty minutes before beginning our descent. Despite the risk, I was glad that I brought my camera. I took some great photos during the climb, and some even better ones at the summit.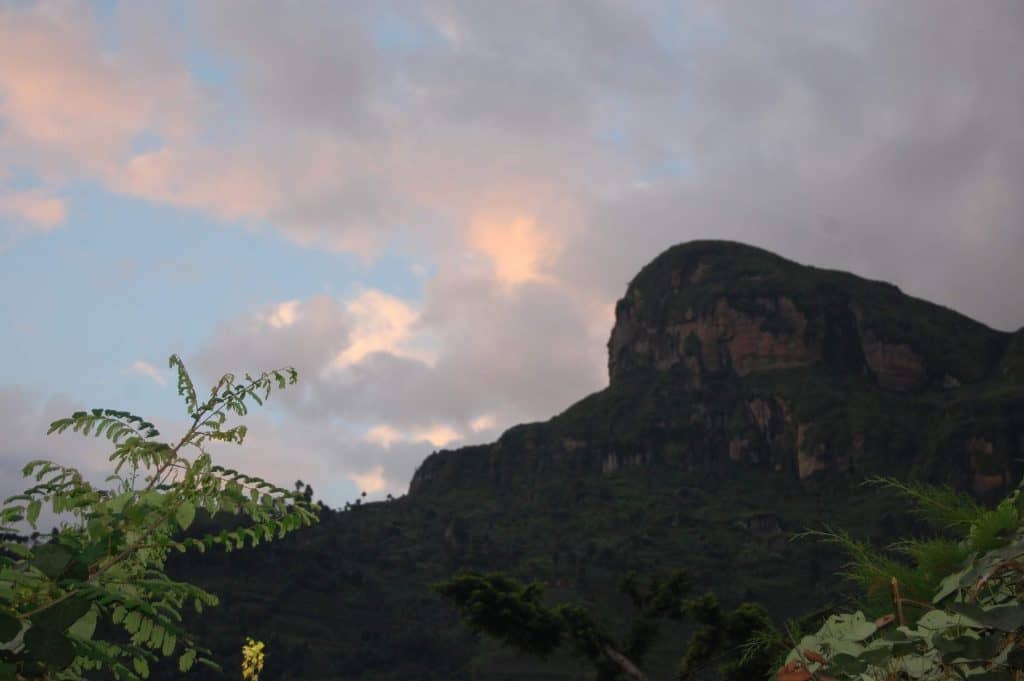 As we began our slow trek down the mountain, we spotted a waterfall in the distance. Some of the kids suggested that we go swimming before returning back to school. Our group leader reluctantly agreed, and we continued onwards. What followed was the longest and most tiring hike of my life.
We walked along the riverbed on a narrow path past some small waterfalls. Eventually, our downhill hike became another steep uphill climb. The local kids scampered up the muddy trail while we slipped and fell repeatedly. We had been hiking towards the falls for over an hour and a half, and it felt like we were no closer than before. We continued walking through thick vegetation for another twenty minutes. Exhausted and covered in mud, we finally arrived at the waterfall.
We stripped down to our swimsuits and went for a cold swim. The power of the waterfall nearly knocked me over. Standing beneath the falls, the pressure of the icy water made every drop feel like a needle pressed into my skin. We swam in the shallow basin near the waterfall for half an hour before drying off to begin our two-hour hike back to the guest house. I won't ever forget that hike.
Soccer: The Universal Language by Zach Bobeczko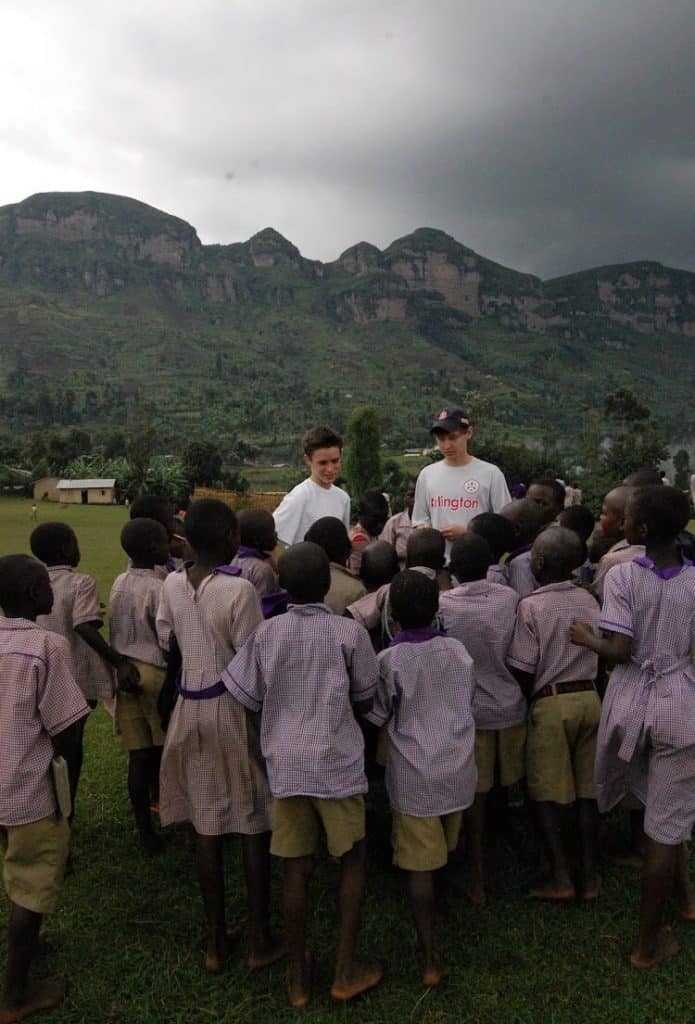 On the 2018 REACH Teen Service Trip, I had an absolutely amazing time, and it was one of the most eye-opening and life-changing experiences of my life. My love of soccer was just one of the many reasons I decided to go on the Teen Trip. I've played soccer my whole life, and I know how big soccer is in Uganda. I also knew how little the children in Uganda have. So I wanted to share my love for soccer by donating soccer gear, such as uniforms and balls. With the help of a few friends and the generosity of many Arlington Soccer Association families, I collected around 200 full soccer uniforms and 60 soccer balls to donate. We did not have enough space to bring all my donations on the Teen Trip, but over the next few years the teens will have the opportunity to continue donating more soccer gear to the children.
On the way to the village of Matuwa, we passed a secondary outreach school. The rain was pouring down; however, all the kids were outside playing soccer. They were playing with balls made out of bags and leaves and rope—whatever material they could scramble together. I asked Joyce if we could get out and donate a few real balls to them, along with a pump to keep the balls inflated. As soon as we got the balls out of the van, the kids started gathering around, and I could tell they were so excited to see a new soccer ball. Although it was very hard to communicate verbally with them, we bonded by playing with each other, taking pictures, and hugging. I could tell just how appreciative the kids were without needing to talk, and that was enough for me.
At every school we went to, even the outreach schools, I saw how important soccer was to these kids. All the schools had soccer fields with tattered goal posts and no nets, but they were used all the time. The theme of soccer being a universal language was a huge part of my Teen Trip. Being able to share the game that I love with the children of Uganda was an amazing experience, and one I will never forget. I made so many friends and memories on the fields of Matuwa, AJS, and the other outreach schools, and I feel really lucky to have had that opportunity.
I Didn't Know What to Expect by Jack Cowden
Before arriving in Uganda I really did not know what to expect. It was a different county on the other side of the world, and I had little experience in countries that spoke other languages. I never knew how much I could connect with and learn about people in other ways. After being greeted by children in Matuwa who spoke little English, I felt welcomed into their community. I was taken aback by the beautiful place they call home. My favorite part of the trip was in Matuwa playing soccer with the local team. It really showed me how much sports can connect people. We played a soccer match and had tons of fun while the whole village gathered to watch. Even though we did not speak the same language, we were able to communicate in different ways across the soccer pitch. These guys had no idea who we were yet they were willing to let us play with them. As I saw first hand, REACH not only helps schools, but it builds up communities and families in rural Uganda.