Matuwa Sponsorship Program Begins
By: Daphne Mabonga, Assistant Outreach Coordinator
Growing up in rural Uganda and attaining a good undisturbed education is a big challenge to many, especially those who come from very needy families. Overcoming this challenge has been Arlington's goal from the start.
In 2004, we opened our school and started educating 350 students in the primary level. We then expanded our program and partnered with government schools to increase our impact in the eastern region of Uganda. What started as a small program has expanded into the Outreach Program that works with 26 underfunded public schools in Bududa and Manafwa Districts.
In 2016 we partnered with Tuckahoe Elementary School in Arlington, VA to become a sister school to one of our Outreach schools. The relationship quickly blossomed as Principle Mitch Pascal, became a huge advocate for supporting education in Uganda. The Tuckahoe community has helped to fundraise for library books, the construction of a school kitchen, and the school's feeding program
This year at Matuwa Primary School 17 second grade students have seen their lives changed because of the sponsorship program that was introduced to their school this year. Orphans and children from very needy families were identified as in need of additional support to keep them in school and confident about their studies. The Tuckahoe community, again, jumped to the occasion to help Matuwa by sponsoring students through REACH.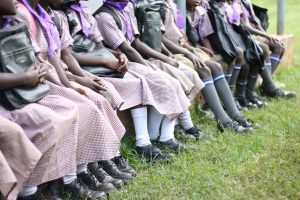 In addition to receiving school fees, the students were happy to get new books, pencils, backpacks, sharpeners, a pair of shoes, and a pair of stockings. They also have had their meals paid for at school and were given a new uniform. All these supplies have helped these students to stay in school and focus on their studies undisturbed.
This sponsorship program wouldn't be a reality if it weren't for the strong partnership with Tuckahoe Elementary School. All the money used to buy the supplies and provide Matuwa with general support is due to the efforts of the great team of our partners at Tuckahoe Elementary School in Virginia. With their efforts we hope for more sponsors in the future. If you have any questions about Tuckahoe's involvement with REACH please email tuckahoe@reachforuganda.org. If you are interested in becoming a sponsor for a student at Matuwa Primary School, please select "Matuwa student" on our sponsor page.