Outreach Schools Excel in Primary Leaving Examinations
By Olivia Schneider, former Outreach Coordinator
At the end of every school year, all 7th grade (P7) students in Uganda take a very important exam called the Primary Leaving Examination (PLE). The PLE tests students on everything they've learned from P1 to P7, culminating in one final exam to determine whether they've successfully passed primary school. Looking at the PLE scores for Bududa District, there has been a clear improvement over time. In 2008, Bududa ranked as the second-to-last district in PLE performance in Uganda, but by 2016, it ranked 89th out of 133.
The REACH Outreach Program has played a vital role in this significant improvement. Through the Outreach Program, REACH gives out practice PLE tests, holds teacher training workshops, and awards scholarships for outreach students who do well on the PLE. Additionally, the Outreach Program provides donations, volunteers, and school lunch subsidies that help students achieve better learning outcomes.
With the support of REACH, our outreach schools have managed to surpass the other schools in Bududa District in terms of PLE pass rates. In 2016, 83% of students at our outreach schools passed the PLE, compared to only 69% at non-outreach schools. However, they still have a long way to go until they achieve the 100% pass rate of the REACH school.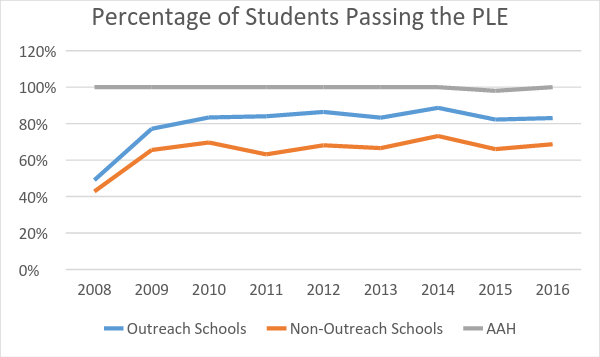 The results from our outreach schools are even more impressive when you look at the percentage of students who scored a Division One (the top grade) on the PLE. In 2008, no students at our outreach schools scored a top grade. But in 2016, 6% of outreach students scored a top grade, compared to only 1% of non-outreach students. This widening gap in performance between outreach and non-outreach schools demonstrates the significant impact of the Outreach Program to improve school performance.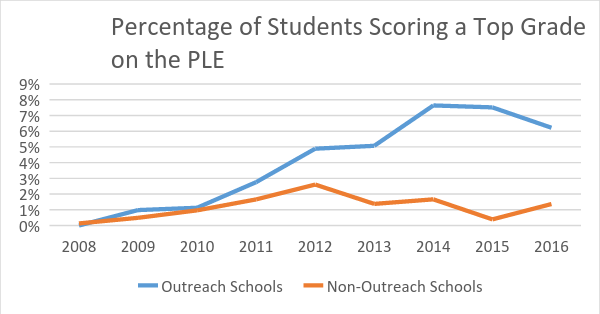 We've seen especially significant improvements at Bumwalye, Bulobi, and Matuwa—the three outreach schools that we support most intensely. These schools have benefitted from lunch subsidies, classroom construction and repairs, and many other special projects that have helped them improve. In 2008, the majority of students at these schools failed the exam, but now, all three of our intensified outreach schools have pass rates over 90%. Perhaps the most impressive improvement is at Bulobi Primary School, which went from a 19% pass rate in 2008 to a 98% pass rate in 2016!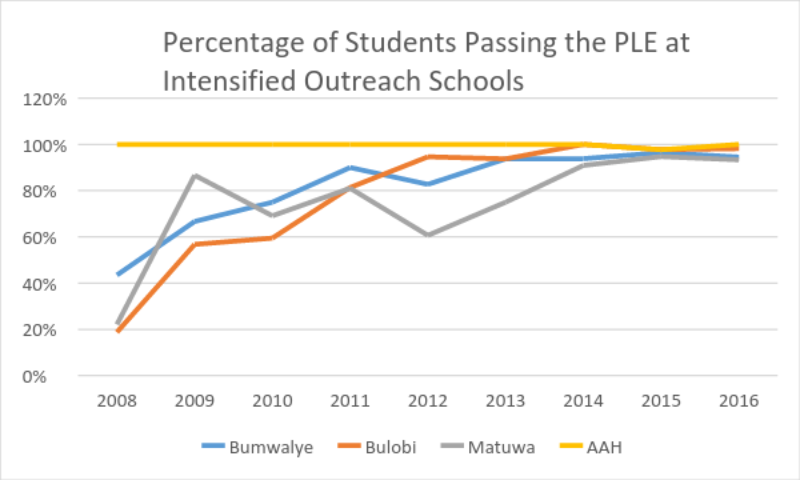 Overall, the Outreach Program clearly creates an amazing impact on PLE results in local schools. Each time we improve learning outcomes at our outreach schools, we come closer to our goal of uplifting the educational standards in Bududa and creating brighter futures for the whole region!