Helping Kids with Albinism in Uganda: REACH and the Asante Mariamu Foundation
By Susan Dubois, Executive Director, Asante Mariamu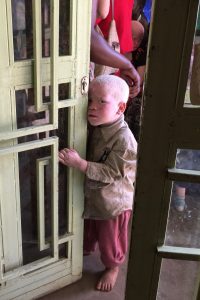 In addition to REACH's support for the education and health of kids in rural Uganda, the organization is often asked to help in other ways. Developing partnerships with other NGOs is a practical way to address issues like albinism—an important problem, but one requiring specific expertise outside of REACH's primary mission. One such problem troubled John Wanda: what to do with the many children with albinism in the communities around REACH. Arlington Junior School (AJS) had two students with albinism. While both are highly accomplished young women, many in their community didn't understand albinism and how it affects them both physically and socially. Both Peninah and Caroline faced many difficulties, and they themselves had almost no knowledge about albinism. Now, REACH is working with another Arlington-based nonprofit —the Asante Mariamu Foundation— to make a difference for those with albinism in Uganda.  
Albinism is a genetic condition that causes a lack of pigment in a person's hair, skin and eyes, which results in extreme light sensitivity, visual impairment and also places that person at a high risk for skin cancer.  While relatively rare in the U.S., albinism occurs in 1 in every 2,000 births in East Africa. Children there with albinism face dire circumstances — from forced relocation in government centers away from their families to threats to their physical safety. In some countries, like Tanzania and Malawi, people with albinism are murdered. Sadly, people with albinism all over East Africa show early signs of skin cancer in their teens and often die in their 40s.
The situation in Uganda is less dire, and children are generally accepted in their communities. However, these children often remain on the periphery of society due to myths about the condition and a lack of educational opportunities. Peninah and Caroline were lucky to have supportive parents and to attend an excellent school, but a lack of resources and information had taken a physical and emotional toll on both of them.
Founded by Susan and Doug DuBois of Arlington in 2009 in response to the brutal treatment of people with albinism in Tanzania, the Asante Mariamu Foundation has since expanded to several countries. It supports kids with albinism in East Africa through awareness programs, educational opportunities, and life-saving medical treatment.  With the help of REACH, Asante has been active in Uganda since 2012.
When John Wanda first connected with Susan, he said it "felt like a big load was being lifted off my shoulders."  REACH helped Asante form strong partnerships in Uganda, and, as a result, people with albinism are getting medical treatment and lifesaving supplies while communities are learning about albinism. In the villages around REACH, there are many with albinism, and most knew little or nothing about the condition or how to protect themselves from skin cancer.
Asante started by hosting small "Albinism Awareness Days" for the local communities, and by distributing hats, sunscreen, sunglasses, and long-sleeved shirts. Many REACH volunteers have even carried suitcases full of supplies to Uganda on behalf of Asante.
After developing relationships with local teachers and dermatologists, Asante now operates skin cancer screening clinics throughout Uganda and has provided surgery for nearly 200 people with early stages of skin cancer in the last year alone. Asante has also educated over 500 family and community members about albinism as a way to reduce the stigma surrounding the condition. We currently provide scholarships for several students at the secondary school level and hope to enroll more students in REACH in the near future.
Our ability to be effective directly connects to our strong partnership with REACH. Now in the process of building a skin cancer clinic and albinism awareness center near REACH, we look forward to many years of collaboration. In fact, we just concluded a skin cancer treatment and awareness day at the REACH clinic in Matuwa and will be sending more suitcases over this summer!
Peninah and Caroline both graduated from secondary school this year and plan to attend university this fall. The partnership between REACH for Uganda and Asante Mariamu Foundation shows how working together makes both organizations more effective at fulfilling our missions. We are so grateful to work together!