Student Story: Katisi Sarah Kutosi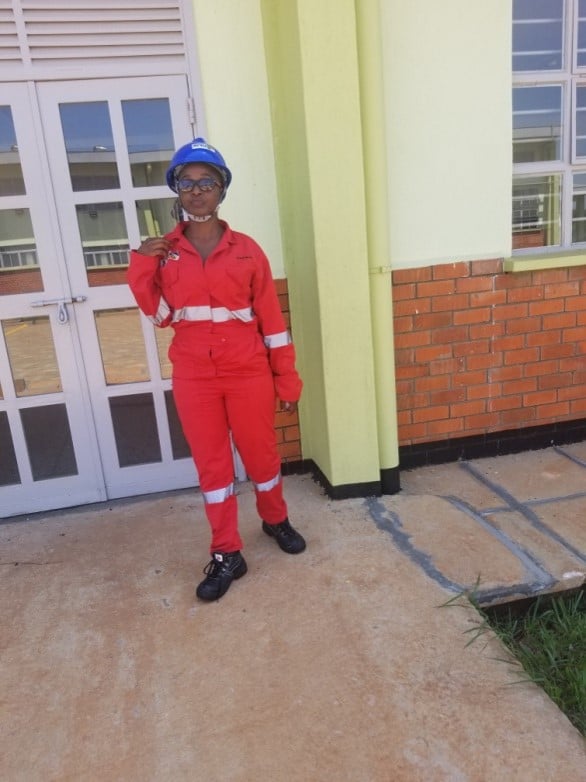 My name is KATISI SARAH KUTOSI, a second year student at the Uganda Petroleum Institute in Kigumba pursuing a diploma in Petroleum Engineering.
I had a dream, a dream to shine, to bloom and sprout. I had this undying passion to glitter, to blossom, to prosper but the dream was unreachable, beyond the glorious sky was its home. The poverty, the destitute and impoverished situation that I found myself in held my ambitions back. I had a dream to excel in a world full of trials. I hoped to rise to standards, to be in a company of the wealthy and sit at tables with the great. Scandals, calamities, carnages always tied me up though. Left me pessimistic, disillusioned and blocked the path to my dream.
But because I had a dream and burnt with passion to achieve, because I had ambitions, Bududa as a homeland was rewarded with saviors. Uncle John Wanda and Joyce Wanda, the founders of Reach for Uganda. People with hearts full of gold and good intensions for the people of Eastern Uganda.
I joined Arlington Junior School, one of the projects under Reach for Uganda in 2007. This was like a dream to me because every student in Bududa district and Eastern region as a whole wished to study in this wonderful school. I am a lucky person among the many because this is where my story begins from.
Arlington Junior School inculcated the habit of reading in all of us. This was through the Reading challenges that were highly sponsored by Tr. Cynthia and other funders from the US every year. AAH not only shaped us to be good in Academics, but also promoted a lot of talents in very student that went through its hands like public speaking through talk shows, debates and open speech days, Sports, Music, dance and Drama and Leadership skills.
In 2013, I did my Primary Leaving examinations where I emerged as the best girl that year with 8 aggregates and I joined Iganga girls' secondary school in 2014 where I did my Ordinary level from and highly passed.
In 2018, I went back to Iganga girls' secondary school for my Advanced level, offering Physics, Mathematics, Economics and Computer studies because I had a dream of being an Engineer. While here I also served as the Chairperson School council and as the Vice chairperson Uganda national students' association Iganga district.
In 2021, I was admitted to the Uganda Petroleum Institute Kigumba pursuing a diploma in Petroleum engineering. Joining the Uganda petroleum institute Kigumba was one of my greatest life moments because I knew my childhood dream had come to pass, a dream to become a petroleum engineer. And here I am in my second year finalizing with my diploma and my dream is to join University next year 2023 and pursue a Bachelors degree in the same course.
I have come from grass to grace, to the Promised Land, a land of plenty. The sky is only the limit because Reach for Uganda is always willing to support me in my education until I have achieved it to my best. I don't consider my career story to be an exceptional one, because anyone that has gone through AAH has a great story to tell and the wonders are endless. AAH is described as "A home of Holistic excellence"
Bravo AAH!