Almost a year ago, P1 Teacher Grace came to the United States to undergo cancer treatments after being diagnosed with an orbital tumor that could not be treated in Uganda.  REACH has received many inquiries to how she is doing, and we are happy to report that she is back to teaching P1 and is now headache free. If you didn't have an opportunity to read her story last year, it is a wonderful example of what a few determined and resourceful individuals can do to help someone in need.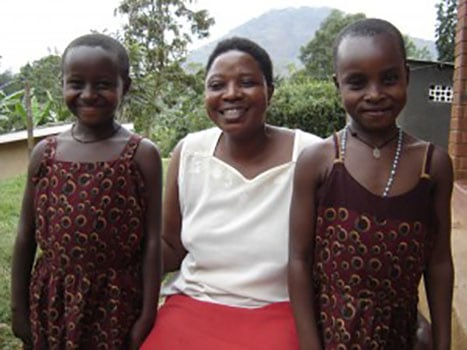 Ms. Lusweswe Grace has been a teacher at REACH for Uganda (REACH) in Bumwalukani, Uganda since 2004. For the past three years, she has assumed the challenging role of primary one (1st grade) teacher, initiating fifty children, ages six to eight, into the English language, and complex world of learning each year. Her classroom is always bright and beautiful, every available space covered with posters and drawings and alphabet cards. Her students respond quickly to her instructions with furrowed brows and determined hands and smiling mouths. She is a huge and irreplaceable asset to them and to REACH.
Grace began experiencing headaches and problems with her vision about three years ago. She spent much of her free time traveling around Uganda, bouncing between eye clinics and hospitals and specialists. No one could give her a real diagnosis.  By the spring of 2008, Grace had become a patient of the eye clinic in Mulago Hospital in Kampala, and spent many weekends braving the 6 hour journey on the dusty Ugandan bus system and sitting in the waiting room for hours. The right side of her face, and right eye were visibly swollen, she experienced almost constant crippling headaches, and she had lost the vision in her right eye. Despite all this, she continued to teach every day.
After several rounds of expensive tests at Mulago, and the advice of a team of visiting neurological specialists, Grace was diagnosed with an orbital tumor which had spread from her optical cavity to her brain. The condition required a complex surgery, and her doctors informed her that no facility or surgeon in Uganda was equipped to perform such a procedure. At this point a team of REACH Board members and supporters, as well as Ruth O'Gara, the Volunteer Coordinator resident in Uganda, began to explore options for getting Grace to the United States for treatment. Thanks to the hard work and generosity of Charlee Voorhees, a young woman who spent three months in Uganda earlier in 2008, and her stepfather, Dr. Leonard Gutnik, a doctor of vascular and internal medicine at Avera McKennan Hospital in Sioux Falls, SD, Grace soon had a commitment of free medical treatment from that hospital. REACH agreed to cover the cost of Grace's travel expenses with many board members and REACH supporters stepping forward to make personal contributions, and Charlee's mother and stepfather graciously agreed to host Grace during her stay in Sioux Falls.
With all the pieces in place in the United States, Grace confronted the bureaucratic challenges of obtaining a passport and visa to travel to the United States. Assisted by Ruth O'Gara, she continued her weekend trips to Kampala, hunted down local officials to sign her papers, successfully completed an intimidating interview at the US Embassy, and still managed to show up to work every day. Finally, on December 18, Grace arrived in Kampala, put on the pair of blue jeans and a sweatshirt she had purchased for the occasion, and headed to Entebbe Airport to board her flight to the United States. At Avera McKennan Hospital the doctors successfully removed the bulk of the tumor that had been causing Grace such pain and disruption.
Grace spent two weeks recuperating under the watchful and caring eyes of Charlee and her family, before traveling to Washington D.C. to spend time with REACH Board members and supporters. REACH founders John and Joyce Wanda hosted Grace in their home, as other Board members fought to take turns spending time with her. She had a whirlwind schedule of lunches, dinners, sightseeing tours and even a visit to Target. She had adjusted quickly to the cold and the food and the hectic U.S. pace and enjoyed herself thoroughly.
Ruth O'Gara later observed, "In a few quiet moments, Grace and I had together she could not stop remarking on the goodness of God, who had seen her through this ordeal so well. I had the chance to witness Grace at work many times over my year in Uganda. I acted as her assistant in the P1 classroom on several occasions, and always emerged marveling at the strength, patience, and unflagging energy of this formidable woman. She's a woman who believes that teaching is love, and she is rewarded with the adoration of her students and the respect of her colleagues. REACH should be proud and grateful that we were able to offer assistance to Grace, and ensure her presence in front of the P1 class of 2009."
Charlee Voorhees recently commented, "I spoke with Grace on the phone the other day – it sounds like she is doing well, but is still recovering. She said she's avoiding boda boda rides (a motorcycle traveling on rutted dirt roads) because they make her head hurt! I also received word that she is having a little bit of trouble with the noise in the classroom. The doctors said it is expected for her to take several months to fully recover; she did just have brain surgery. Hopefully the sensitivity will go down soon so she can get back to her magical teaching of our P1s."