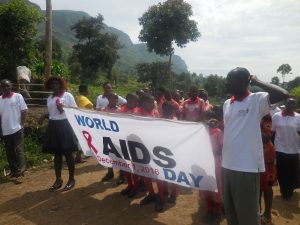 December 1st is recognized internationally as World AIDS Day. The celebrations are dedicated to raising awareness of the AIDS pandemic and remembering those who died of the disease. To commemorate World AIDS Day, REACH held celebrations today at both of our clinics in Bumwalukani and in Bupoto.
At our Bumwalukani clinic, the day started with HIV testing and counselling. Clinic staff also gave some education about how to prevent HIV and the importance of getting tested. Arlington pupils made the celebration lively by performing a song and poem about the dangers of HIV. Finally, the day ended with lighting candles in remembrance of friends and family who have passed away due to AIDS.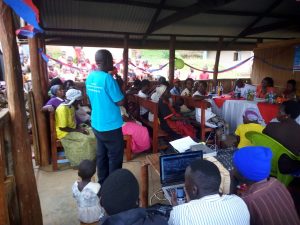 The Bupoto clinic also held a wonderful event to commemorate the occasion. To start off, the AIDS Support Organization (TASO) of Mbale came to give free HIV testing and counselling. Over the course of the day, 84 people were tested for HIV! Mbale Blood Bank also came to receive blood donations and altogether enough blood was donated to provide 60 blood transfusions. The celebration also included some great songs, poems, and dances from students from Arlington and Matuwa Primary School. Additionally, one of the signature events of Bupoto's annual celebration is a march throughout the community to raise awareness of World AIDS Day. The clinic staff, students, and community members marched while carrying banners, singing, and passing out condoms to prevent HIV transmission. The guest of honor was Mr. Phillip Wandawa, a Counselling Psychologist from TASO Mbale who gave a great message about what we can all do to stop the AIDS pandemic. Finally, the Bupoto community also ended the day by lighting candles in remembrance.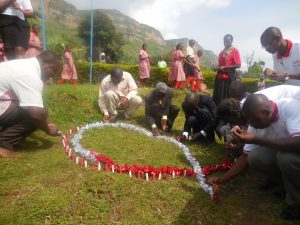 Great thanks to our staff at both clinics for all they do to fight AIDS, not only on World AIDS Day, but every day!