The Impact of Sponsorship
By: Amy White, REACH sponsor and Board member
When I first heard about REACH from John and Joyce Wanda, what initially appealed to me was the one-on-one connection to the sponsored children. I wanted my three elementary-aged children to connect in meaningful ways to other children across the globe. I wanted them to understand how very blessed they are to have access to a great education and healthcare. I never imagined how successful REACH would become or how profoundly these connections would impact my kids' lives.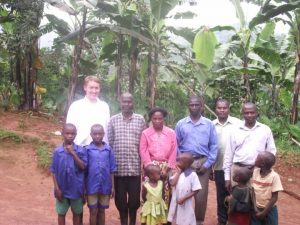 My family decided to sponsor a child for each of our three children (two sons and a daughter). Yes, this was a significant investment and long-term commitment on our part, but my kids were excited to learn about a child's life in Uganda and to have an international pen pal. I also became friends with John and Joyce and came to believe in the mission of REACH to create hope and opportunity where there was little. As donors and sponsors, we wanted to see our impact in action, and REACH allows us to do that in a way that few other nonprofits do.
Once we signed up, we received grateful and detailed letters telling us about their animals, their school work, and village life. Year by year, we followed them as they grew physically and intellectually into successful and respected students. Asha's letters to my daughter, Sam, always had colorful crayon borders and spoke of how she loved to read. Isaac's letters to my son, David, told about his science projects and his desire to enter the medical profession. My oldest son, Ian, kept talking about going to Uganda and meeting Jacob, with whom he'd been corresponding enthusiastically for years.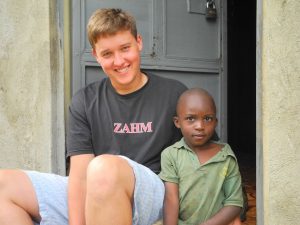 Ian has now been to Uganda twice. He took the three-week teen trip with John Wanda and later worked as an intern for the Women's Microfinance Initiative gathering and documenting data on their loans. On his first visit, the REACH community welcomed him enthusiastically and helped him celebrate his birthday with dancing. On his second visit, Jacob, who was then in college, came to Ian's residence to see him. Side by side, Jacob and Ian hiked three hours to Jacob's remote village where Ian was warmly embraced by Jacob's family. Basically, everyone in this village was Jacob's family! They shared meals and music and the joys of Jacob's accomplishments. Ian returned to his own last years of college with a visceral and lasting understanding of lives beyond his own fairly-sheltered existence. Both Ian and Jacob have now graduated from college!
In these unpredictable times, we all long for reliable ways to make a difference. Sponsoring a child at REACH provides a concrete, cost-effective way for you to invest in a child's future and watch your investment blossom into an educated and grateful adult who is ready to pay it forward in his or her own community. We are thrilled and proud to support REACH!
Becoming a sponsor of one of our students is a great way to watch the impact you can have as years pass. If you would like to start a wonderful relationship please consider sponsoring a student today. You can make your first payment through our GlobalGiving page and it will be matched by 50%. Join us today by donating in honor of #GivingTuesday!