By: Olivia Schneider, Outreach Coordinator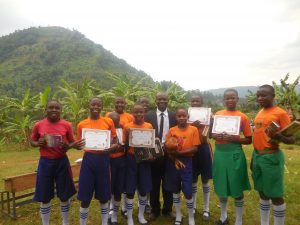 The Outreach Program Debate Tournament is an annual program in which teams from Arlington and other outreach schools compete in a series of debates. The goal of the program is for students to improve their public speaking, reasoning, and English skills, as well as encouraging friendly competition among the schools. The first round was held in April and it involved 8 schools, who debated on topics such as "Girls should be given more care at school than boys" and "Schools should not have holidays". Four schools then moved onto the semi-final round, which was held in July. These debates were very competitive, but eventually Arlington Junior School and Bukiga Primary School emerged as the finalists.
On October 19th, the highly anticipated final match was held at Bukiga Primary School. The motion of the debate was "Education is better than wealth." As the hosts of the debate, Bukiga supported the motion while Arlington were the opposers. Students from both schools gave impassioned arguments to support their side of the motion. After all speakers were finished, the judges revealed that Arlington had scored 85 while Bukiga scored 72, making Arlington the overall winner!
As the first place winners, the Arlington debate team won a goat for their school. The students were incredibly excited about this because the whole school will get to eat goat meat for lunch next week. The top debater from Arlington, Felistas Kwambukha, said that "At first I was so nervous because the proposers were so good and I didn't know if we would win. But when we won I was so happy."  Even though Bukiga didn't win, they were also happy about the program. Faith Watera, one of the debaters from Bukiga commented that "It was so fantastic. I learned that you must make friends and cooperate with students from other schools."  For the second place prize, Bukiga won a chicken and all participants also received certificates and glow sticks.
Overall, the debaters from both schools demonstrated amazing public speaking skills that impressed the judges and all spectators present. We're confident that these talented students will be the future leaders of Uganda!