It's easy to find ways to get involved with REACH…
By: Bree Hannafin, former REACH Ambassador

It's easy to find ways to get involved with REACH because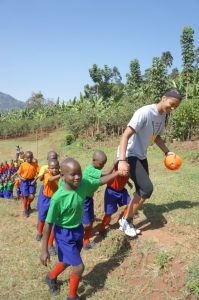 there are so many opportunities to share your passion. Being a collegiate athlete, I knew I wanted to focus my time in Uganda around sports, so I tapped into my network to receive over 100lbs of donated equipment that I was able to bring with me. These included basketballs, frisbees, jump ropes, footballs…you name it! The best day of my trip was when I trekked up to the school, dragging the equipment up the hills and opened the suitcase full of gear and just watched kids play – carefree! I saw experienced athletes doing tricks with the soccer ball and students putting on a baseball glove for the first time (not knowing what it actually was!). So during my month long trip, I taught PE classes to the primary students. I showed them new games such as capture the flag and some basic skills of my favorite sport of baseball/softball, and then also organized competitive games of their favorite sport of football (soccer).
I shared lessons how physical activity (which they get more than enough of each day) is a part of a healthy lifestyle, how they can learn to work together as a team, and how to use it as an outlet to escape the day and have fun. Because as focused and determined as they were in the classroom, they were just as enthusiastic to get outside and learn new skills. It's easy to want to be outside when you have the perfect weather and beautiful Ugandan backdrop at your playing field. But what amazed me the most was how they would actually take OFF their shoes to play and run! They were quick and nimble, while I was twisting my knees and stumbling around on the uneven field due to ditches in the dirt and rocks while I was trying to keep up with them.
I was already amazed by how they navigated through these terrains during their journeys to school and work in the fields, but I was even more impressed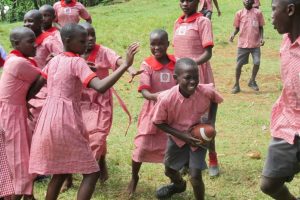 by how dynamic they were on their subpar school field knowing they compete and excel in their inter-school competitions. I was used to the neatly manicured fields of Arlington, VA, not the imperfect land at the Arlington Junior School. I knew this was how I wanted to stay involved when I got home from my trip because I witnessed how they deserved and needed better – a "field of dreams." After about a year of fundraising, we had finally pulled enough money to level the school field…and the fundraising was the easy part! All the volunteers and school staff found a way to make it work and bring this venture to life…to rally the support of the community for the project, to get the plans approved by the government, to secure the safe transport of the necessary equipment, to work vigorously to complete the development. Seeing smiling pictures of students and people in the community enjoying the flat green field for all sorts of activities was well worth the sprained ankles (and embarrassing falls) I endured!
If you would like to donate to REACH to continue the efforts made by Bree and many other donors and volunteers, please consider donating to us on #GivingTuesday, this November 29th. Every donation made on that day will be matched by 50%, making your gift go even further! Check back to our website on Tuesday for the link to donate!