By: Olivia Schneider and Daphne Mabonga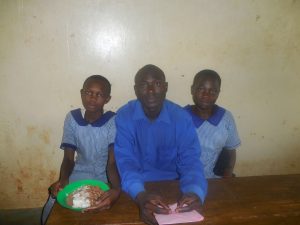 Francis Wamusi is a 38-year-old father of 8 who also happens to be a 7th grade student at Bulobi Primary School. Not only does Francis tower over his 14-year-old classmates, but he is also older than his teacher and one of his children is actually a 5th grade student at Bulobi! However, Francis does not feel embarrassed about attending primary school at his age. For him, all the challenges of going back to school have been worthwhile in order to obtain an education.
When Francis was younger, he had some health problems which caused him to drop out of school. After recovering, he decided not to go back. Instead, he soon got married and not long after that, he started having children. In order to provide for his family, Francis became a farmer and occasionally did some roofing and construction work. However, he eventually decided that education was necessary in order to improve his life. Francis realized that "without education, I could not do much for myself and my community." He therefore decided to go back to 7th grade (the last year of primary school) so he could earn the qualification of a primary school graduate.
This week, Francis will face a decisive challenge as every 7th grade student in Uganda takes the Primary Leaving Examination. The PLE tests pupils on everything they've learned from 1st to 7th grade and it also determines whether or not they've passed primary school. A student's score on the PLE also determines which secondary schools they can attend, so it can have a big impact on their future. Needless to say, students have studying extremely hard in order to get good scores.
Francis is confident that he'll be able to pass the PLE and obtain his primary school qualification. He's hoping to earn a score of either Division 1 or 2, which is equivalent to an A or B. Next year, he wants to go onto secondary school and someday he may even try to attend university.
The experience of going back to school has helped him learn a lot about the importance of education, which is a lesson which he wants to pass onto his children. He says that "Every single day, I advise them to stay in school because without education, you are voiceless in society. I never want my children to make the same mistake I made over twenty years ago."
We wish all the best of luck to Francis on the upcoming PLE and his future endeavors in education!