I'll never forget arriving in the village late at night…
By Beatrice Tierney, long-time friend and supporter of REACH
I got connected to REACH in 2004 when I met John Wanda at Bethel Church. I was born in Italy and came to the US at an early age.  I had to work very hard to get to where I am today.  I feel very lucky and blessed.  Giving back and helping others has always bee
n extremely important to me.  I was involved in various volunteer projects but always wanted to do something in Africa.  When I met John, he shared his vision of building a school in Uganda, and I got involved at once.
I went to visit REACH in 2006 for the first time.  I was overwhelmed with the number of children who were walking hours to attend school.  Many of them came to school ill.  One morning, I noticed a young girl who did not join her class to go for the morning snack.  I asked the teacher why and was told she was ill.  I asked if the child should go home, but the teacher explained that the walk home was over an hour.
After visiting all the other classrooms, I went into the Head Teacher's office where I found this little girl sleeping soundly on the cold floor.  The Head Teacher told me there was no room for sick children and no medical help for the students or staff. It really upset me that we had so many children extremely ill in the village from lack of medical care. Around the same time, the music teacher passed away from malaria.
It was at that time I pledged to donate to build our first clinic.  I approached John and told him educating children was very important but if we could not keep them healthy, it was pointless.
I will never forget arriving in the village late at night, a few years later, surrounded by people chanting and singing.  Everyone was so excited and pleased about the opening of the clinic.  This was something they never expected to happen and they were so grateful to have the new resource in their community.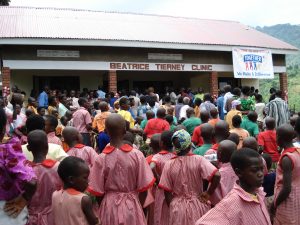 In 2008, I decided to help again. I donated money to build our second clinic in Matuwa, the neighboring district, in memory of Joyce Wanda's sisters who died young of treatable diseases.  It was my gift to Joyce's family and the Matuwa community.
My strongest memory of REACH for Uganda was at the opening of the Matuwa clinic.  We had people attending from all over.  We provided a meal for everyone.  It was a great celebration.  The next morning, when the clinic opened, there were so many people waiting in line to be seen.  Our first patient was an elderly man.  When he finished in the clinic, he came over and thanked me for my donation and showed me medication he had just received.  He said finally for the first time in his life he would not have to worry about being in pain anymore.  There were people who slept outside that evening, waiting for the clinic to open again the next morning.  I couldn't believe the impact this clinic would have on this community.  People walking hours just to be seen.  It was the best moment I had ever experienced.
If you would like to donate to REACH to continue the efforts made by Beatrice Tierney and many other donors and volunteers, please consider donating tomorrow, November 29th! Every donation made on #GivingTuesday through GlobalGiving will be matched by 50%!